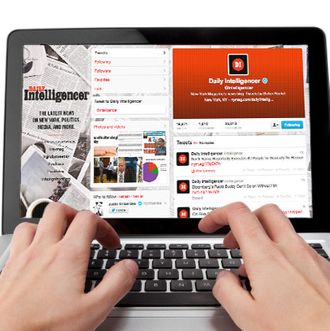 Welcome back to the New York Magazine Competition. The best of last week's submissions, including the winner, appear below this week's call for entries.
It's easy to play: On Monday mornings, we'll lay out a challenge and offer a few sample responses. Give it your best shot in the comments section, or on Twitter with the hashtag we've provided, and on Sunday the editors will select a winner. Criteria are highly subjective, but heavily retweeted and favorited posts will have an advantage. The prize is a year's subscription to New York in print or a two-year subscription to the iPad edition (winner's choice). Full rules are here.
COMPETITION NO. 9: WATCH THAT LAST WORD. Please submit a familiar title or phrase that, with an added final word, takes an unexpected turn. For example:
THE GOLDFINCH: RECIPES
SUNDAY IN THE PARK WITH GEORGE ZIMMERMAN
SESAME STREET MEAT
Post your submission in the comments below, or on Twitter with the hashtag #thatlastword.
RESULTS OF COMPETITION NO. 8: BILL DE BLASIO'S FIRST 100 DAYS, in which you were asked for headlines relating to the new mayor's policies.
HONORABLE MENTION TO:
"STOP AND FRISK" POLICY RENAMED "STOP, COLLABORATE & LISTEN"
— Bill de Bleezy ‏@BilldeBleezy
DE BLASIO JOINS THE 1%, SAYS IT'S BEEN REAL
—WHYGODWHY
BLOOMBERG SHOWS UP DAILY TO 'OFFER ASSISTANCE IN ANY WAY' FOR NO PAY; DE BLASIO BEFUDDLED
—Danny Groner ‏@DannyGroner
YOU'RE PROBABLY GOING TO BE THE VICTIM OF A VIOLENT CRIME NOW
—SHAR_KBITE
THE OFFICIAL ALBUM OF NYC IS NOW 'SANDINISTA,' BY THE CLASH 
—CONTRARIAN_DIP
CONGESTION PRICING FINALLY COMING TO STATEN ISLAND
—JASPER_QUINTANA
DANTE CONSIDERS CUTTING HAIR; MAYOR DECLARES MORATORIUM ON ALL CITY BUSINESS SO FAMILY CAN MEET AND DISCUSS
—DONMATTINGLY
ALL CLOCKS TO BE SET FORWARD BY 30 MINUTES
—DINOSGOROAR
UNEMPLOYMENT BENEFITS TO BE EXTENDED TO THE END OF TIME 
—FRANK_
NYC PUBLIC SCHOOLS BEGIN OFFERING 3-DAY WEEKENDS; LOBBYIST DANTE DE BLASIO TO SPEAK AT JOINT PRESS CONFERENCE 
— Nick Papa ‏@BRITAINick
LOTS OF THINGS RENAMED: DE BRONX, DE BROOKLYN, DE BATTERY, THE PLAZIO 
— Jed Miller ‏@jedmiller
NEW MAYOR MOVES TO GRACIE MANSION; AVERAGE HEIGHT IN BROOKLYN DROPS THREE INCHES
—Jeff Schwartz ‏@Jeffurry312
AND THE WINNER IS…
MAYOR REPEALS DRINK SIZE LIMIT; ALSO SUPERSIZES MAYORAL CHAIR, DESK, DOORWAY
—ONVACATION