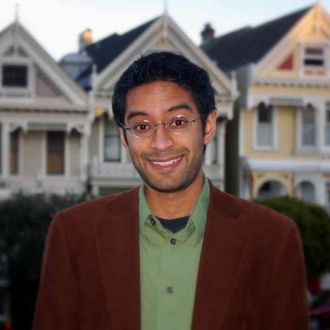 After just four months as a tech columnist at The Wall Street Journal, former Slate writer (and foundation enthusiast) Farhad Manjoo is jumping ship for the New York Times, where he will take over the slot left open by "State of the Art" columnist David Pogue, who departed for Yahoo in October. According to the Times, "Under Mr. Manjoo, 'State of the Art' will push beyond traditional reviews and examine the tech industry more broadly and the role technology plays in society." Manjoo wrote on LinkedIn that this was a dream job for him, but that he was still conflicted about the move.
"Indeed, even after I got the NYT offer, I agonized about what to do. Yes, this is sort of like the agony of choosing between two very delicious pieces of cake, but still. I was on the fence about this, and though I'm thrilled beyond words about the NYT, I really hope those guys at the WSJ know that I bear them no ill will," Manjoo wrote.
He might not bear the Journal any ill will, but the move still leaves the paper a bit in the lurch. Dow Jones lost Walt Mossberg and Kara Swisher, its two top tech writers, last September, and hired Manjoo to replace them. To make this bit of inside baseball even more insidery, the news of Manjoo's move to the Times broke on none other than Re/Code, the site Mossberg and Swisher started post-Journal.