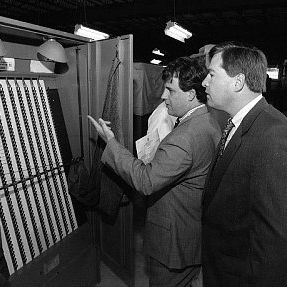 Assembly candidates Chris Christie and Richard Merkt look over a sticker that will be placed over their names in voting machines to correct a ballot error in April 1995.
Photo: ? Robert Eberle/Star Ledger/Corbis
In New Jersey, candidates for the state Legislature often team up to run on a ticket together. In 1995, a young lawyer named Chris Christie made his third run for public office, joining forces with a legislative aide, Richard Merkt, to challenge a Republican incumbent for the state Assembly.
After e-mails released Wednesday confirmed that top Christie aides caused a traffic jam on the George Washington Bridge, Merkt reached out to offer his thoughts on Bridgegate. His takeaway? It is positively Nixonian.
"You know, reading the reports about the GW bridge fiasco, I recalled how similar the governor's conduct during the re-election campaign was to that of President Nixon during his victorious re-election campaign in 1972," he said.
Merkt, who served in the state Assembly from 1998 to 2010 and challenged Christie in the 2009 gubernatorial primary, recalled that before the Watergate break-in, polls showed Nixon well ahead of his Democratic challenger, George McGovern:
He had no need to engage in an abuse of power to win re-election, and, in fact, he won by a landslide. But Nixon just couldn't help himself; he did it anyway; he eventually got caught, and it cost him his office and political career. One might surmise that it was the arrogance of power that did him in, but I suspect it was really his control-freak nature and deep vindictiveness fundamental to his nature.

Remind you of anyone we know? I doubt the comparison will long be lost on New Jersey Democrats, who already smell blood in the water.
Though Christie claims he knew nothing about the act of political retribution, Merkt says several people he spoke with in Trenton agree with the predictions that this will be the end of the governor's 2016 presidential bid.
"Given his vindictive nature, I always sensed that Christie would implode at some point, but I did not foresee it happening so soon or over such a petty matter," said Merkt. "By the way, my recollection is that Nixon crushed McGovern by a 60 percent to 38 percent margin, a margin virtually identical to Christie's victory over Buono.  Funny how history repeats itself."
I first met Merkt a few months ago at the Morristown Diner in Morris County, where Christie took his first shots – most of them misfires – in the political arena. Merkt, who looks like he could play U.S. president on a sitcom, reflected on the young, brash Christie he knew in the mid-nineties:
He always has had a thin skin … He does not believe in getting mad, he believes in getting even. Now, the trouble is, that as we get older and mature, we recognize that you can't hold grudges, it's just not productive. But he holds grudges. I think the biggest shock to his system … will be when he wants to run for president (he's clearly running for president). He is going to be vetted in a way that he has never been vetted before.
With today's revelations from inside Christie's inner-circle, that vetting seems to have come a bit earlier than even Merkt anticipated.