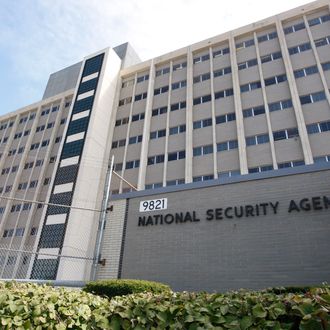 This Friday, President Barack Obama is scheduled to give a speech announcing changes to the way the National Security Agency conducts its surveillance activities. The White House hasn't indicated what he'll say, but in the meantime, critics of the agency's surveillance operation (including some appointed by Obama himself) are making the case that regardless of privacy questions, the agency's large-scale phone-data collection is simply not that effective. But that doesn't mean the president will pull the plug on it.
On Monday, the New America Foundation published a study that found that in the 225 terrorism cases it analyzed, the NSA's phone-data-collection program had "no discernible impact on preventing acts of terrorism and only the most marginal of impacts on preventing terrorist-related activity."
Just one of the cases the researchers examined used phone metadata as its initial evidence, the study found. And that case, in which a San Diego cab driver and three others were convicted of sending money to a terrorist group in Somalia, "involved no threat of attack against the United States," the Washington Post reported.
As the Post pointed out, the New America Foundation study echoes the findings of the president's Review Group on Intelligence and Communications, which recommended an end to the NSA's collection of phone records. That panel said the phone metadata "was not essential to preventing attacks and could readily have been obtained in a timely manner using conventional [court] orders."
But elsewhere in the White House, many of Obama's "closest advisers," as the Los Angeles Times put it, apparently agree with the assertion that had the NSA been collecting data on the scale to which it does now before September 11, 2001, the attacks on the World Trade Center and Pentagon could have been thwarted. "As a result, the administration seems likely to modify, but not stop, the gathering of billions of phone call logs" the Times concluded. And the NSA's PR offensive seems likely to continue.