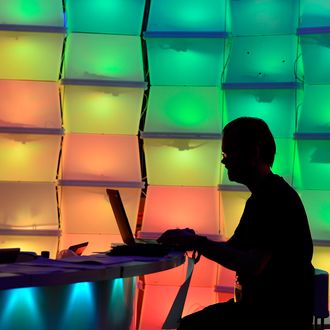 Photo: Patrick Lux/2013 Getty Images
After all the reports about the NSA scooping up vast amounts of data online, it's refreshing to hear that they're still using James Bond-esque gadgets (unless you're the target). According to a New York Times report partially based on Edward Snowden's disclosures, the agency has planted software in about 100,000 computers worldwide that allows it to conduct surveillance on those machines and potentially launch cyber attacks. Since at least 2008, the NSA has spied on foreigners' devices using radio waves transmitted from tiny circuit boards that can be built into USB plugs. Targets may think they're protected if they don't connect to the Internet, but if the technology is inserted in their computers – whether by manufacturers or spies – they may wind up broadcasting information to briefcase-sized NSA relay stations up to eight miles away.
Unlike many programs that have come to light recently, the Times reports that there is no evidence that the NSA is implanting software or using radio frequency technology in the U.S. Since at least 2008, the agency has used the technology, code-named Quantum, to spy on the Russian military, Mexican police and drug cartels, European Union trade institutions, and some terror suspects.
The Chinese Army is a frequent target, which makes President Obama's complaints about Chinese cyber attacks in a meeting with President Xi Jinping just last summer even more awkward. While Chinese military hackers were accused of trying to gain access to various American institutions, from media companies like the Times to government agencies, the NSA says it's surveillance efforts are totally different.
"NSA's activities are focused and specifically deployed against — and only against — valid foreign intelligence targets in response to intelligence requirements," said Vanee Vines, a spokeswoman for the agency. "We do not use foreign intelligence capabilities to steal the trade secrets of foreign companies on behalf of — or give intelligence we collect to — U.S. companies to enhance their international competitiveness or increase their bottom line."
Whatever the NSA's motives may be, the latest report underscores that everyone should be suspicious of foreign governments bearing free USB drives.