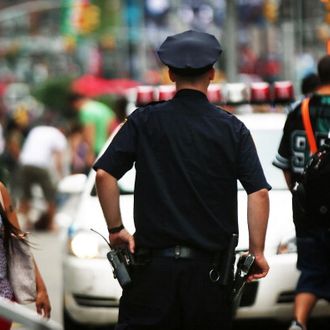 Photo: Spencer Platt/Getty
The NYPD's inability to pick out the Rick Ross quotes in gang members' Facebook posts left the impression that the police department isn't very knowledgeable about rap music. However, the New York Times reports that they're trying to learn, or at least scour local rappers' work for clues. The NYPD has been monitoring gang members' social media pages for some time, and now they're doing the same with the videos the aspiring artists post online, in the hope that deciphering the lyrics will give them insight into street crews' recent crimes.
The officers aren't necessarily looking for confessions. Recently there's been a greater effort to tie isolated shootings to larger criminal conspiracies, and the videos can provide background information on the groups' rivalries, or evidence that suspects are part of a particular gang. The hip-hop collective Addicted to Cash or A.T.C., which officers say is also a criminal organization, is among their targets. Rapper Cuame Nelson, who is facing felony charges in a Brooklyn gang case, denies that A.T.C. is a gang. "We have copyrights for our organization; we are a music group. O.T.S. Entertainment. A.T.C. Entertainment. This is a music group, you dig?" he said.
Nelson's manager, Patrice Allen, said potentially attracting police attention is a risk the artists have to take. "If you have that much passion and love for the music, I guess you have to deal with it," Allen explained. "That's just what comes with the music. It's the bitter and the sweet, you know?" What are you going to do, not make obvious references to criminal activity in your music?