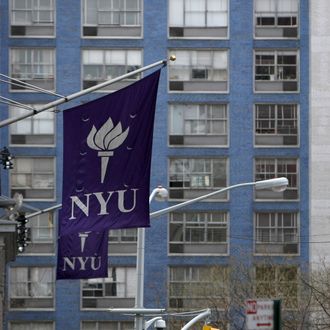 Photo: Bloomberg/Bloomberg2010 Bloomberg
The semester starts today at New York University under a dark cloud after a young man jumped to his death from a dorm building last night. The incident occurred around 3:20 a.m. at the Third North Residence Hall on Third Avenue and 12th Street. The victim has not yet been identified.
NYU's Elmer Holmes Bobst Library has been the site of three suicides since 2003, prompting concerns about safety and an effort to prevent copycat tragedies.
Update: NYU spokesperson John Beckman sends the following statement:
"It is with great sorrow that we report that a freshman was found in an interior courtyard in the residence hall where he lived. It appears as though his death occurred as a result of a fall; police and the University are looking into events preceding the discovery of the body in order to determine the cause and nature of his death.

"The University expresses its deepest sympathies to the family and loved ones of this young man; they are in our hearts and our prayers this morning.

"We have had crisis counselors at the residence hall since early this morning, providing support to student residents and the hall staff. Their presence on site will continue.

"NYU has a 24/7 mental health and crisis intervention program that is among the most highly regarded at any University — the NYU Wellness Exchange. We want to remind students of the availability of help around the clock at NYU — at 212.443.9999, or wellness.exchange@nyu.edu —   and we want everyone to remember that you will not get in trouble for calling in professional staff — counselors, hall staff, or others — to help when someone is struggling with an immediate problem."