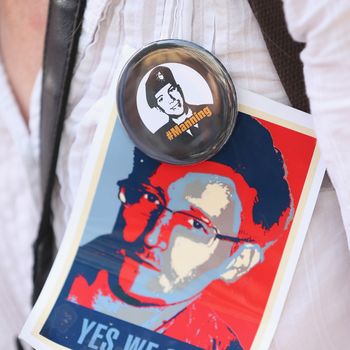 Photo: Sean Gallup/2013 Getty Images
We're still receiving regular reports from the files of Edward Snowden (just yesterday The Guardian revealed the NSA collects 200 million text messages per day), but on Friday, President Obama will take the first major step toward repairing the damage caused by the NSA leaker. One month after a White House panel recommended significant changes to NSA operations, the president will announce his plans to reform the agency in a speech at the Justice Department. Obama is expected to focus on increasing oversight and transparency, leaving many of the biggest questions about the bulk collection of data up to Congress.
According to the Associated Press, the president is expected to call for the creation of an independent public advocate for the FISA Court, and two measures to curb the anger overseas: increased privacy protections for foreigners and regular reviews of which foreign leaders are secretly monitored.
He'll also broadly support changes to the bulk collection of phone records, but ask Congress for help with the specifics. The White House panel concluded that the data should be stored by telecommunications companies or a private consortium, and the government should be required to obtain a court order to conduct a search. Senior administration officials told The Wall Street Journal that Obama was still "wrestling" with those issues as of Thursday evening.
It doesn't appear that the reforms will be as sweeping as privacy advocates had hoped, but that's unlikely to curtail the anger toward Snowden within the NSA. BuzzFeed checked in with several members of the intelligence community, and as you might expect from spies, their Snowden venting was pretty violent:
"In a world where I would not be restricted from killing an American, I personally would go and kill him myself," a current NSA analyst told BuzzFeed. "A lot of people share this sentiment."

"I would love to put a bullet in his head," one Pentagon official, a former special forces officer, said bluntly. "I do not take pleasure in taking another human beings life, having to do it in uniform, but he is single handedly the greatest traitor in American history."
A defense contractor speaking from overseas added that most people on their base would like to see him hung, and an Army intelligence officer shared a detailed fantasy about discreetly stabbing Snowden with a needle in the streets of Moscow, "and next thing you know he dies in the shower."
By comparison, Obama's dismissal of Snowden as a "29-year-old hacker" seems almost friendly – but don't expect to hear anything about offering him amnesty in Friday's speech.