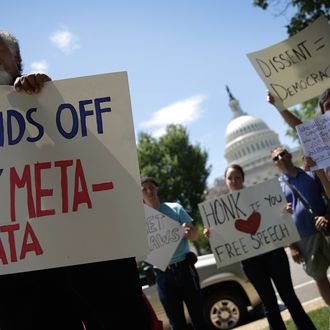 A taste of what Rogers has to look forward to.
Photo: Win McNamee/2013 Getty Images
President Obama has already dismissed a
White House panel's recommendation
that a civilian be put in charge of the
NSA
, and now he's made it official. On Thursday, the administration announced that it's tapped Vice Admiral Michael Rogers to head the
NSA
and the military's Cyber Command. Rogers is the current commander of the Navy's Fleet Cyber Command and an expert in designing cyberweapons, but the
New York Times notes
that he has "no public track record in addressing the kinds of privacy concerns that have put the agency under a harsh spotlight." We'll soon know much more about his thoughts on the topic, as the Senate is expected to use his confirmation hearing to extract more information about the
NSA
's operations, and vent about government surveillance. And if Rogers is confirmed to replace General Keith Alexander, who is
retiring after nine years
in the position, his top priorities will include reforming how the
NSA
collects Americans' phone data and dealing with various other policy changes that the White House left for
other agencies to

 

decide
.