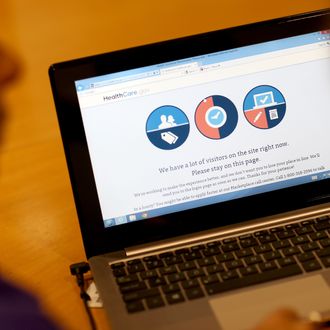 This used to be the biggest crisis in the world.
Photo: Joe Raedle/2013 Getty Images
Something is going to happen to put Obamacare back on the front page again. In the meantime, it's become awfully quiet, humming along like other government programs. That's good news — blunders and controversy tend to make news, while normality doesn't. Sarah Kliff graphs the drop-off in news coverage: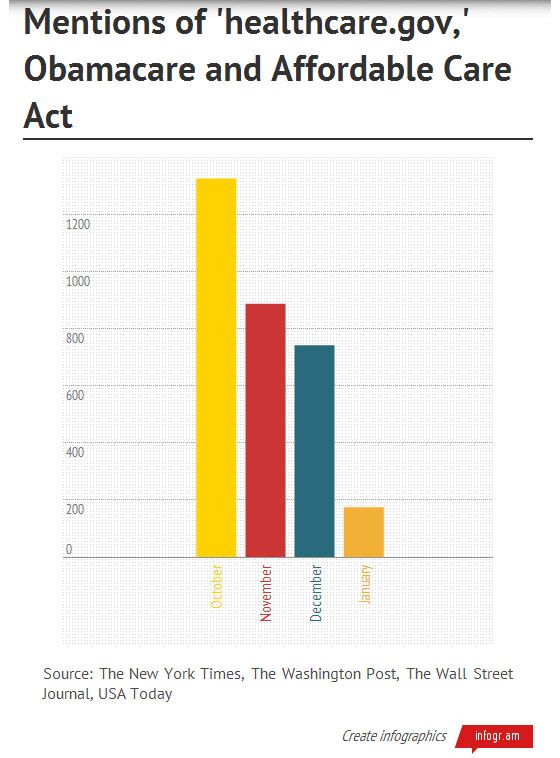 My theory is that Republicans won't accept this turn of events, but rather will increasingly come to regard Obamacare less and less as an incipient catastrophe for Democrats, and increasingly as an infuriating coup:
Gleeful predictions of imminent collapse will give way to bitter recriminations at the nefarious tactics used to make the law work. Obamacare will cease to be the something certain to destroy Obama and become something Obama has gotten away with.
Conservative columnist Noemie Emery, writing in the Washington Examiner, offers up a perfect sample today of this Obamacare-as-scandal line:
Sold on a lie, cloaked in deception and passed on a trick just this side of legal, this act is not merely an outlier but also an outlaw in the legislative history of our republic …
Emery does mention in passing that the law is bound to fail, but all her energy is mustered instead into denouncing its illegitimacy. This points the way for the future of Obamacare hatred.