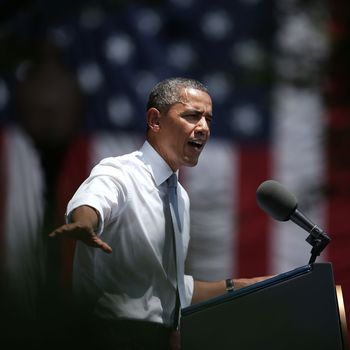 Photo: Alex Wong/Getty Images
When President Obama leaves office three years from now, the major policy story of his second term — barring some kind of unforeseen invasion — is likely to be climate change. I made this argument at feature length last year, and the evidence continues to mount. Coral Davenport reports today about Secretary of State John Kerry's "systematic, top-down push to create an agencywide focus on global warming."
Kerry is a longtime climate obsessive. (Ten years ago, I attended an off-the-record discussion with Kerry alongside several journalists, and our main takeaway was that he understood and cared about climate change more than any other issue.) His appointment to run the State Department is one of several Obama second-term moves that signal the high priority he assigns the issue. This is true not only of the figures Obama has appointed to posts that inherently concern climate change, like the his green appointees to run the Environmental Protection Agency and the Department of Energy, but also to general political advisers, like Denis McDonough and John Podesta, both committed environmentalists who will drive Obama's climate focus.
The EPA's new climate regulations are due to come out this June. They will face a certain legal challenge from conservatives. The main driving goal of Senate Democrats' rule changes last year was to allow Obama to appoint judges to the D.C. Circuit, which will rule on those regulations.
Meanwhile, the State Department today released its Climate Action Report, which reconfirms the administration's commitment to issue new regulations of existing power plants, and further argues that such a plan could bring the United States into compliance with its international greenhouse gas reductions. Kerry has already negotiated an agreement with China to phase out hydrofluorocarbons. After the EPA's regulations come out, the next step is for Kerry to negotiate the next international climate accord in 2015. As Brad Plumer correctly notes, with characteristic pessimism, a climate treaty is merely a necessary but insufficient step toward averting catastrophic climate change, with more reductions necessary. But that necessary first step is exactly what Obama is doing everything in his power to take with his remaining time.