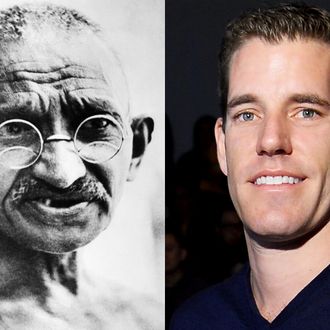 Photo: Michael Loccisano/Getty Images; STR/AFP/Getty Images
While testifying Tuesday at a New York State hearing on regulating Bitcoin, Cameron Winklevoss made a rather off-kilter comparison, quoting Mahatma Gandhi in relation to the virtual currency: "First they ignore you, then they laugh at you, then they fight you, then you win," Winklevoss said, invoking the nonviolent leader of the Indian independence movement as he discussed the made-up money that's helping make him and his brother richer. The outsized analogy came a few days after venture capitalist Tom Perkins compared San Francisco's Google bus backlash to Kristallnacht, the night Jews came under attack in Nazi Germany. What the hell is going on with these guys?
Nothing new, really. Plenty of other powerful people do this all the time. Invoking momentous historical examples to make petty political points is so common it's become a routine part of our national conversation. Let's hop in the not-so-way-back machine to check out a few recent, glaring examples.