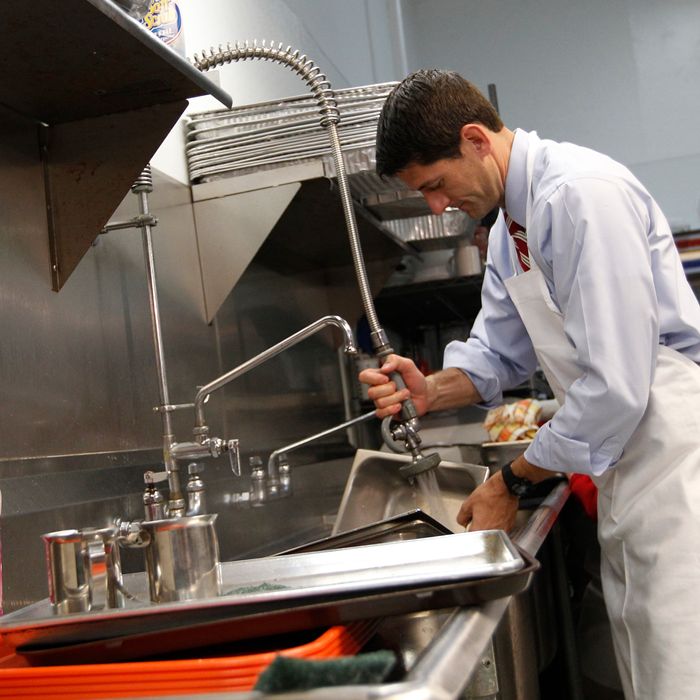 Yes, I always wear a tie to scrub dishes… there are no reporters in here, right?
Photo: Mary Altaffer/AP Photo/Corbis
Paul Ryan is desperate to keep the public from knowing about his trips to visit African-American churches and other groups that aid the poor. We know this because stories about Ryan's tour of the inner cities keep appearing in the news media, and they keep reporting that Ryan is doing a "quiet pitch" to the poor (National Review) or is "quietly visiting inner-city neighborhood" (the Washington Post) or "quietly touring impoverished communities" (Buzzfeed.) Yet, as the existence of these stories suggests, his efforts to keep this quiet have been a debacle. "Ryan," reports Buzzfeed, "has deliberately left the cameras behind during his excursions to poor neighborhoods this year in places like Indiana and New Jersey, but the stories of his interactions with the poor somehow find a way of leaking into public view. "
Ryan has no doubt been interrogating his inner circle to expose the leaker. And this weekend, his efforts to prevent American from learning about his hours spent in inner cities suffered another devastating setback:
Godamn it, he said no cameras! And now the photo has not only made it onto the Internet, the person posting it has hacked into Ryan's official Twitter account! Who knows what secrets they'll be sending out next?