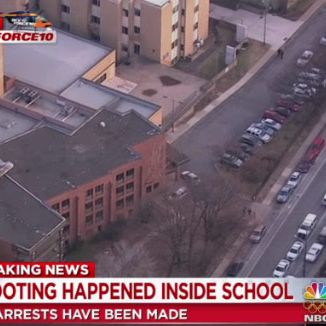 Three days after a shooting at a middle school in New Mexico, and less than a month after one at a high school in Colorado, America has a new most-recent school shooting.
Two teenagers were wounded today around 3:30 p.m. at Delaware Valley Charter School in Philadelphia. The victims, reportedly a boy and a girl, both 15, were taken to a nearby hospital in stable condition. "Everything was captured on video," said police, who believe the shooter was a male student, now in custody.
On Twitter, during a search of the premises, the Philadelphia Police urged the person responsible to come forward:
Update, 4:52 p.m.: A suspect has been apprehended.