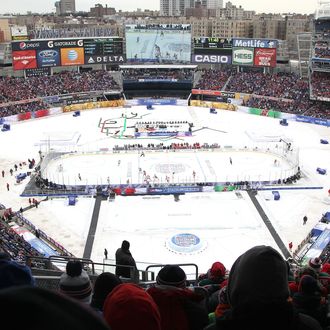 NEW YORK, NY - JANUARY 26: (EDITORIAL USE ONLY) A general view of action from the upper seats in the first period during the 2014 Coors Light NHL Stadium Series at Yankee Stadium on January 26, 2014 in the Bronx borough of New York City. (Photo by Len Redkoles/NHLI via Getty Images)
Photo: Len Redkoles/2014 NHLI
There's been chatter about staging an outdoor hockey game in the Bronx since before the Yankees' old ballpark was torn down, and yesterday, it finally happened, with the first of this week's two NHL Stadium Series contests at the new Yankee Stadium. 
In front of 50,105 bundled-up fans, the Rangers defeated the Devils, 7-3, on a rink constructed atop the stadium's infield. (Devils goalie Martin Brodeur, who was pulled after allowing six goals on 21 shots through two periods, blasted the quality of the ice, though he might also want to blast the team in front of him, which allowed odd-man rush after odd-man rush.) A day after the Kings and Ducks played a game outdoors at Dodger Stadium (game-time temperature: 61 degrees), fans in New York watched as a light snow fell during part of the game, which was delayed some 40 minutes because of glare on the ice. (Game-time temperature in the Bronx: 24 degrees.)
A little snow, however, means even better visuals. Here, some images from the day.