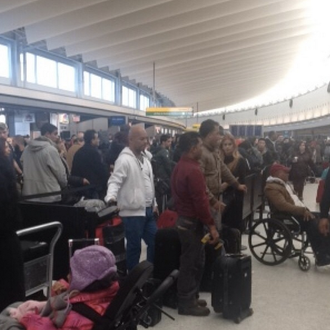 Photo via Instagram user pryde_general
For today's installment of "how terrible is the weather?" let's turn to JFK airport, where the freezing rain caused a Delta Connection 4100 plane coming in from Toronto to skid on the icy runway and plow into a snowbank during its 7:56 a.m. landing. Luckily, all 35 people onboard were safely escorted off the flight after it was towed to the gate with not one reported injury among them. That's according to what Port Authority spokesman Ron Marsico told the New York Daily News. 
JFK was then closed for two hours so "crews [could] salt and sand the runways." The AP reports that "flights resumed after 10 a.m. on two of the airport's four runways, but residual delays for passengers were expected." The incident caused delays at LaGuardia, as well. Congratulations to anyone who manages to use any of our area airports to get somewhere warmer.