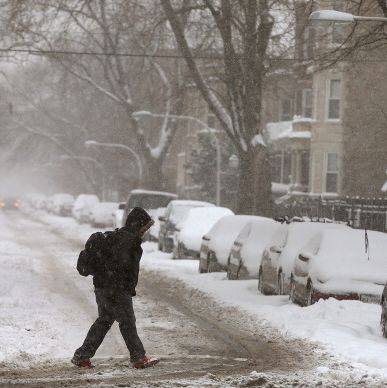 You don't need us to tell you it's very cold outside. One look out the window at the bundled and shivering passersby or, more wisely, at the single digit temperatures on your phone screen, and it's pretty certain you don't need to venture outdoors today. That's because there's something happening in the country called a "polar vortex" or, as Weather Bell meteorologist Ryan Maue called it, a "frigid air blanket."
Maue said the cold air system is caused by a "counterclockwise-rotating pool of cold, dense air, once piled up at the North Pole, and pushed down to the U.S." It's expected to arrive Sunday. "All the ingredients are there for a near-record or historic cold outbreak" not seen in nearly 40 years, he added. Basically, we'll see deep temperature dives and below-zero cold spells in the coming days, he said. Temperatures might reach record lows in New York.

Another meteorologist, Sally Johnson of the National Weather Service added, "This one happens to be really big and it's going to dive deep into the continental U.S. And all that cold air is going to come with it."

Plans are being made around the U.S. to hunker down as the freeze sets in. The AP reports:
In Chicago, more than 180 flights have been canceled out of O'Hare International Airport. In Minnesota, schools closed across the state for the first time in 17 years. In North Dakota, there are "life threatening wind chills" forecast through Tuesday morning.
Our recommendation: Stay snug at home beneath five or so different blankets, catching up on Sherlock or Downton Abbey.