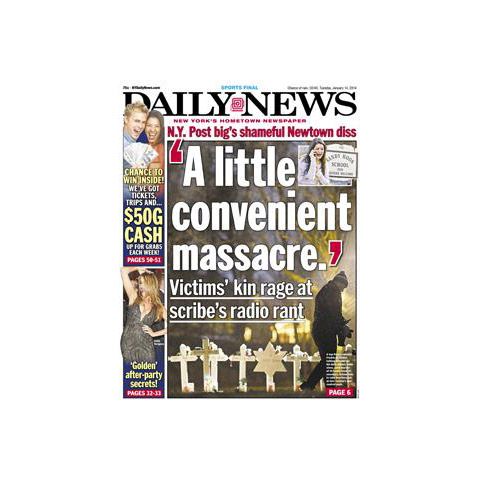 Relations between rival tabloids New York Daily News and the New York Post have never been exactly warm, but lately they've been particularly chilly. And the Daily News's decision to blast the Post on its front page on Tuesday suggests the Daily News, at least, has no intention of making nice. In its top story of the day, the Daily News took to task Fredric Dicker, the Post's Albany columnist and the host of the radio show "Live From the State Capitol," on which he said Monday that last year's school shooting in Newtown was "a little convenient massacre."
Dicker was speaking with humorist Randy Credico when the discussion turned to Governor Andrew Cuomo's recent State of the State address, and the SAFE Act gun-control legislation passed last year. "That was his anti-gun legislation, which he had promised not to do, but then he had a little convenient massacre that went on in Newtown, Connecticut, and all of a sudden there was an opportunity for him," Dicker said. Family members of Newtown victims told the Daily News they felt insulted, and the group New Yorkers Against Gun Violence called on Dicker to apologize.
But a Post columnist pissing people off is not that unusual; another tabloid blasting him on its front page is. The move ratchets up the Daily News's  criticism of its rival, evident most recently in its handling of the Eliot Spitzer "hot tub" story. While gleefully debunking the report that Spitzer had sucked the toes of a topless Lis Smith in a public hot tub while on vacation in Jamaica, the Daily News referred to "the rapidly imploding down-market New York Post," and called the paper "perpetually confused."
As Capital New York points out, the Daily News beat the Post to the Spitzer-Smith affair story (albeit by minutes), even though the Post apparently knew about it first, sending a reporter out to Smith's apartment. Capital also reminds us that Daily News editor Colin Myler and Post editor Col Allan previously worked together at the Post, where they were friends. So this latest battle in the tabloid wars has a personal element to make it extra interesting.