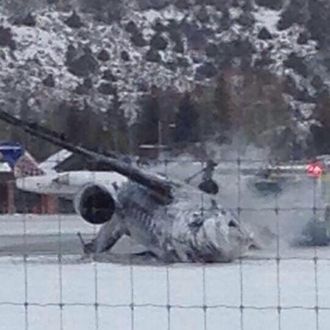 In another, much more tragic airport incident today, officials at Aspen-Pitkin County Airport report that a private plane crashed on the runway during landing around 12:45 p.m. local time. Alex Burchetta of Pitkin County Sheriff's Office told the New York Times that of the three unidentified people on board, one suffered serious injuries and the other had more minor ones. A third died. CNN reports that FAA spokesman Allen Kenitzer said the Bombardier Challenger 600 was coming from Tucson, Arizona.
Due to the ski destination's high profile, some famous folks were in the airport at the time of the crash and tweeted their reactions:

According to an official statement, the airport (located almost 100 miles from Denver) is currently closed.