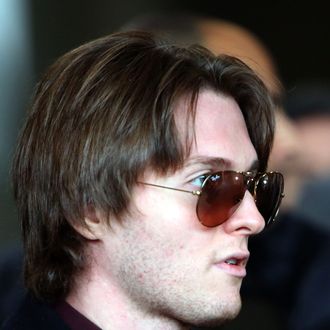 Photo: Franco Origlia/Getty Images
Reconvicted in the 2007 murder of Meredith Kercher in Italy, doomed couple Amanda Knox and Raffaele Sollecito are handling their shared circumstances in very different ways. Although he was in Florentine court earlier on Thursday, Sollecito was not present for the verdict. Today, he was picked up at a hotel 200 miles away, near the Austrian border, where he definitely wasn't trying to escape, according to his lawyer. "Raffaele Sollecito had no intention of fleeing," said the attorney, who claimed Sollecito's new girlfriend just happened to live around there.
Sollecito was sentenced to 25 years yesterday, and Knox 28 and a half, in a reversal of their 2011 appeal. The two may now appeal again, and the new ruling must still be confirmed by a higher court. In the meantime, Sollecito is free to travel within Italy, although his passport has been confiscated.
Knox, meanwhile, appeared on Good Morning America today. "It really hit me like a train," she said of the verdict. "I did not expect this to happen. I really expected so much better from the Italian justice system. They found me innocent once before." They also found her guilty once before.
Knox could eventually face extradition to Italy. "I will never go willingly back," she said.