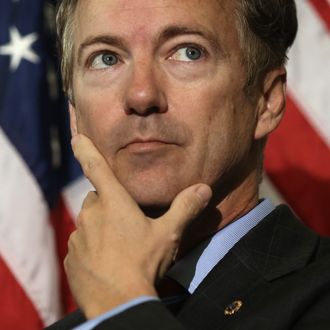 Fight the power
Photo: Alex Wong/Getty Images
He's been threatening to do it for months, but it looks like Rand Paul is finally ready to sue the Obama administration for the NSA's mass surveillance programs. 
Paul will announce on Fox News Friday evening that he plans to file a class-action lawsuit against Barack Obama and National Intelligence Director James Clapper over the NSA's bulk metadata collection, making good on his promise to take the president to court over revelations of the spy agency's expansive domestic snooping. Although no court documents have been filed in the case yet, Paul's advisers told Daily Intelligencer that the senator's legal team is currently drafting a complaint claiming that the searches violate Americans' Fourth Amendment rights, and plans to file the suit "soon," likely in D.C. District Court. 
It's a brazen move by Paul, a likely 2016 presidential contender who delights in antagonizing national security hawks in the Chris Christie wing of the GOP. Although Senate rules prohibit Paul from using his title in the suit, the Kentucky Republican will act as the lead plaintiff in the case against the spy agency, representing between 250,000 and 300,000 people who voluntarily signed on to the class-action suit via his Paul's RANDPAC website. 
Paul will also be getting an assist from Ken Cuccinelli, the failed 2013 Virginia GOP gubernatorial candidate who will be out of his job as state attorney general next week. Sources say that Cuccinelli plans to join Paul's team as a legal advisor for the NSA suit, reprising his role as the Tea Party's most litigious firebrand. 
So far though, the details of Paul's lawsuit are murky. A legal counsel for Paul told Daily Intelligencer Friday that he expects the case will be similar to another NSA suit filed by birther provocateur Larry Klayman. U.S. District Judge Richard Leon agreed with Klayman's arguments last month, ruling that the NSA's metadata collection violates the Fourth Amendment. The Paul advisor said that lawyers are now studying Leon's ruling to formulate arguments for their class-action case.
Of course, other federal courts have found the NSA's surveillance programs to be within bounds of the Constitution. And Paul's lawyers will also need to prove that their suit has standing as a class-action case — a tall order given the conflicting legal precedents on domestic drone surveillance. 
In the end, the lawsuit is simply foreplay, both for the Supreme Court and for Paul's anticipated 2016 White House run. And regardless of the legal outcome, compiling a list of 300,000 devoted civil libertarians isn't a bad way to kick off a campaign.