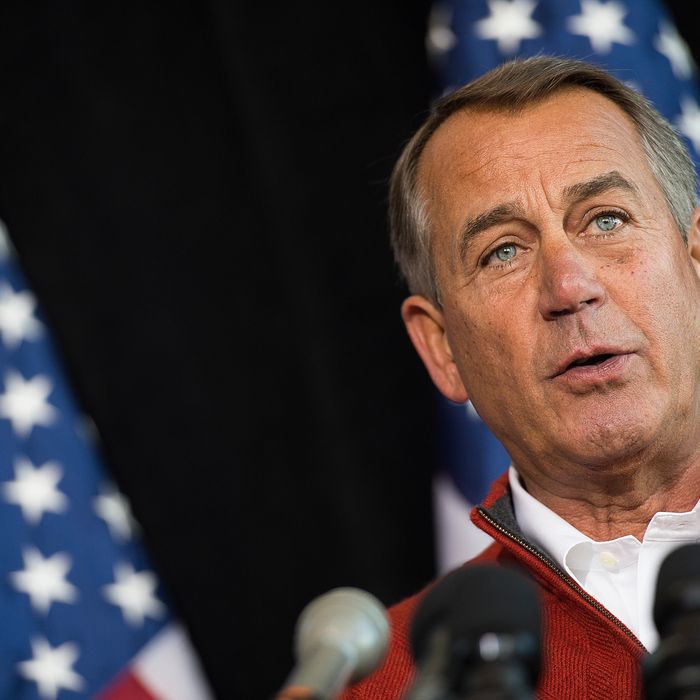 Boehner speaks to reporters during the retreat, mixes casual and business attire.
Photo: JIM WATSON/AFP/Getty Images
The theme of this year's GOP retreat, according to John Boeher, is showing that Republicans offer alternatives to President Obama's agenda, rather than just opposing anything he suggests. Thus, on Thursday afternoon at a Maryland resort, House Republican leaders unveiled a one-page outline of their proposals for immigration reform. After declaring that they won't take up the bipartisan Senate immigration bill, basically because it's really long, the proposal states that House Republicans want a route to legal status for millions of undocumented immigrants. The plan immediately divided Republicans, with many arguing that with the midterm elections approaching, they shouldn't attempt to do anything about immigration.
The Republican plan, which was leaked to Politico, saves the most controversial point for last. After calling for a biometric system to track those in the country on a visa, a "workable electronic employment verification system," and changing the legal immigration system to focus on economic needs over family ties, the blueprint addresses how to deal with the millions of immigrants who are already here illegally. The Dreamers, who were brought to the country illegally as children, would have "an opportunity for legal residence and citizenship" if they earn a college degree or serve in the military.
The plan for other "Individuals Living Outside the Rule of Law" is less forgiving. They can "live legally and without fear in the U.S., but only if they were willing to admit their culpability, pass rigorous background checks, pay significant fines and back taxes, develop proficiency in English and American civics, and be able to support themselves and their families (without access to public benefits)." But "there will be no special path to citizenship," and the route to legal status will only become available once "specific enforcement triggers" have been met.
Boehner warned, "These standards are as far as we are willing to go," according to a source at the closed meeting, but many members felt they still went too far. One House member who was in the meeting said it was "very passionate" with a "sizable bloc" opposing the blueprint. Some Republicans said they were opposed to offering legalization to immigrants who broke the law, and don't trust Obama and Democratic leaders enough to negotiate.
Others had a problem with the timing, but not necessarily the principles. "This is really a suicide mission for the Republican Party," Representative John Fleming of Louisiana told the Associated Press. "While we're winning in the polls, while 'Obamacare' is really dismantling, big government concepts of Democrats and Obama disintegrating, why in the world do we want to go out and change the subject and revive the patient?" Sure, it's a huge problems that affects millions of people, but if it's not going to score Republicans any votes, why bother?