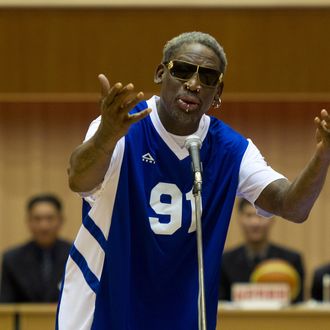 Dennis Rodman's latest North Korea adventure took an even more surreal turn on Wednesday, when the former NBA star awkwardly led an auditorium full of North Korean basketball spectators in singing "Happy Birthday" to leader Kim Jong-un. Rodman apparently started the unexpected serenade by himself, before the crowd joined in. "We always tell Dennis that he can't sing. He is tone deaf," former New York Knicks player and fellow NoKo baller Charles Smith told USA Today. "He did it alone." This after offering a "charmingly shambolic speech" of thanks to Kim and his wife for showing up to the exhibition game between U.S. ball-players and a North Korean team.
"It started out as surreal, then people joined in and it sort of faded a bit, but it seemed pretty heartfelt from Rodman's side," Simon Cockerell, a tour guide who was at the game, told Reuters about the song. "It was unexpected, and probably unplanned," he said. "Kim Jong-un appeared to smile, but he didn't appear to expect it." According to the Associated Press, the capacity crowd of about 14,000 went wild for the song in Pyongyang Indoor Stadium. Facing Kim from the court, Rodman bowed.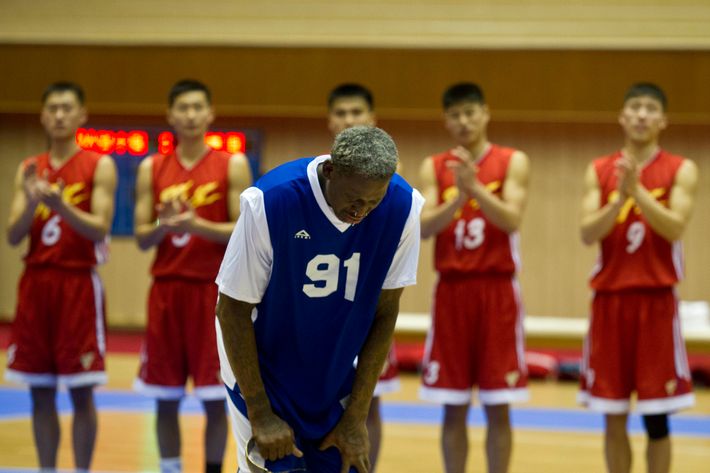 Then it was game time. The U.S. players took on the North Koreans during the first half, but then split up the squads and played a mixed game during the second half, the AP reports. With an average age of 48, the U.S. players, a mix of former NBA pros and street ballers, trailed the North Koreans during the first half, which ended with a score of 47 to 39 for the home team. The mixed second half kept things friendly, the AP reported.
Off the court, Rodman's outburst yesterday about the guilt of imprisoned American Kenneth Bae earned him the ire of Bae's family. "He was in a position to do some good and to help advocate for Kenneth," Bae's sister, Terri Chung, told CNN's Anderson Cooper 360. "He refused to do so. But then instead he has chosen to hurl these outrageous accusations against Kenneth. He clearly doesn't know anything about Kenneth, about his case. And so we were appalled by that."
But hey, at least Kim and Co. got to see a fun game.