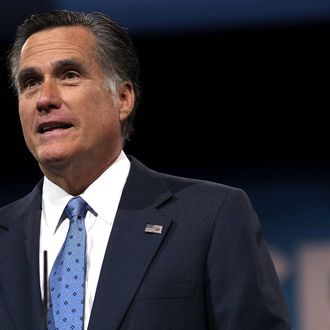 Photo: Alex Wong/Getty Images
On Sunday morning, Mitt Romney took a break from whatever he's doing these days to address the week-old controversy surrounding his family's annual Christmas card, and a MSNBC segment where some comedians made jokes about the presence of Romney's black adopted grandson, Kieran, in it. The people involved have all since said "sorry" and, on Saturday, host Melissa Harris-Perry opened her show by offering a second, tearful apology. In an appearance on Fox News Sunday, Romney did the reasonable thing and accepted it.
"Well, you know, I think people recognize, and the folks at MSNBC have apologized, recognize people like me are fair targets. If you get in the political game, you can expect incoming. But children, you know, that's beyond the line, and I think they understand that, and feel that as well," Romney told Chris Wallace. "I think it's a heartfelt apology. I think for that reason, we hold no ill will whatsoever."
When Wallace reminded Romney that Harris-Perry had floated the idea of Kieran marrying North West, forcing Romney and Kanye to become in-laws, he responded, "I hadn't heard those and don't have any comment on those," possibly because he is not sure who Harris-Perry was talking about. See? Joking about adult Romneys is so easy that you really don't need to bring the babies into it.