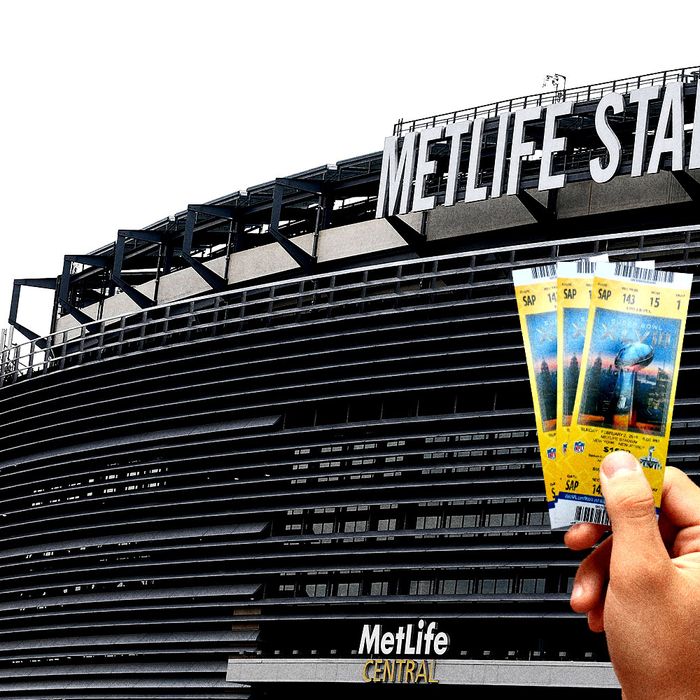 Photo: Photos: Jeff Zelevansky/Getty Images, iStockphoto
Want to befriend a scalper this week? Ask about Super Bowl tickets. With nearly 14,000 seats still on the market, and lows of 27 degrees predicted for Sunday's 6:30 p.m. kickoff, the guys shilling outside Barclays Center on a frigid Monday night are ready to make a deal.
"This is the worst Super Bowl ever," says Lloyd, a 42-year-old in a big puffy coat who's been selling tickets for twenty years. "Nobody likes the cold weather, they always want a warm climate. Usually around this time I'd be up $20 to $30,000. Last year, New Orleans was beautiful — I made $40,000. New York, I don't know why they did it. I'd be happy if I make $5,000." 
Between the weather and increased security, Lloyd will stay in the city on Sunday and sell whatever tickets he has near Penn Station. Many of the brokers who supply sites like StubHub, SeatGeek, and Craigslist will try to move what they can online, and pass the rest out to scalpers on the streets starting today.    
"They're dropping, and they are dropping fast," says Nate, a fiftysomething grandfather with a daughter in college, who has been selling tickets since 1974. "It's going to be freezing out there. The people I deal with, the brokers firm I work with, it was on the board for $3,000, now it's half that." (According to data from TiqIq.com the average ticket list price is hovering near $3,000, down nearly 30 percent since January 18. The lowest tickets are under $1,500, mezzanine seats are going for $1,800, lower-level seats are running $1,900, and suites are ranging from $225,000 to $574,000. As of this morning, there were over 10,700 tickets remaining.)
"My prediction is it's going to be a bomb," says Nate. "I'm not going. I'm going to a Super Bowl party." Although, he's already made about $6,000 in commission for ten tickets, which included a pair he unloaded for $7,000 ten days ago.          
Of course, what's bad for scalpers is good for fans. "I believe on the day of the Super Bowl, tickets are going to be cheap," says Lamont, whom I meet selling Nets tickets outside of the Atlantic Avenue subway station. "I've gone to every Super Bowl, and in New Orleans one year, the Super Bowl went down to $200, and the tickets [retailed for] $800. I believe these are going to go down to $500. You'd wait until the day of the game, and then you'd go over there to the stadium."        
But you have to be careful, Lamont warns: Either have the scalper walk you in or make them wait. "If you go with a friend and you buy two tickets, you tell the people, 'Let my friend go in first, once he goes in, then I give you the money.' Because they have a lot of fakes that look real good."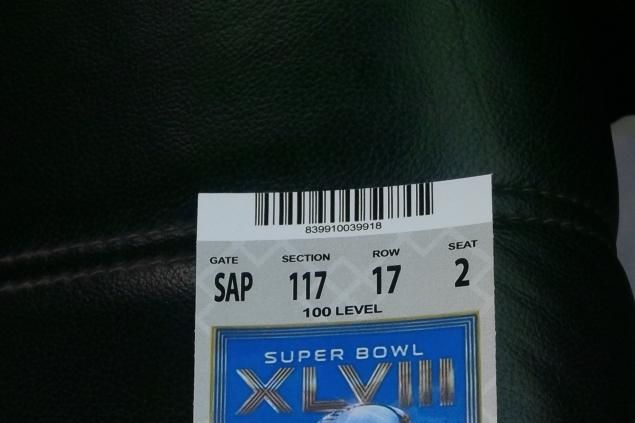 Nearby, Adam, a short guy in a Hard Rock Madison Square Garden T-shirt approaches a pack of teen boys in yarmulkes near the Barclays Starbucks, and makes small talk in Hebrew. "They'll feel more trusting with a Jewish guy," Adam explains. Tonight he's pushing Nets tickets and doesn't have any on hand for the Super Bowl, but his buddy Tommy, who used to be a broker at First Hand Tickets, still has his connections. When the teens don't bite, Adam and Tommy invite me into the Nets game in exchange for beer and nachos.           
"Never buy tickets a month before. Always buy the day before," Tommy advises as we're sipping Stellas at center court. "Most have already been sold, and only 3 percent are open to the public. The rest go to the corporate sponsors."
Adam digs into the nachos.
"You also have to preverify your tickets," he explains. "There are so many scams and hustles out there."