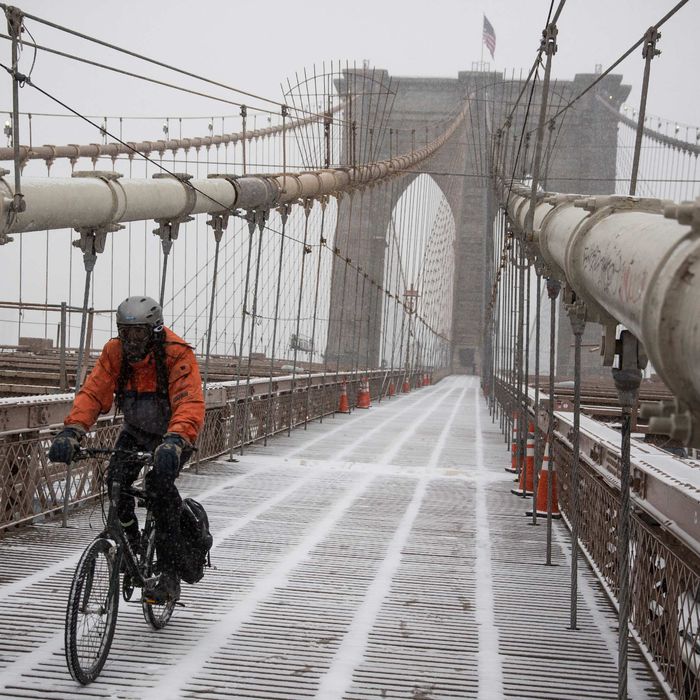 Photo: Andrew Burton/2014 Getty Images
As promised, white flakes have begun to fall in New York City, and it's expected to continue till the sun comes up on Wednesday. Sure, it looks pretty now, but: "As you go into the darkness, it's just going to get worse and worse," says a National Weather Service meteorologist. In all, the city can expect eight to fourteen inches — up from yesterday's estimates and the largest piles of this polar-vortex-y winter so far.
City schools are open today, the subways are running, and alternate-side parking is suspended. We'll see about tomorrow. New Jersey and Long Island are expected to get the worst of it, with D.C. and Philadelphia not spared. 
Already, thousands of flights have been canceled across the country, including hundreds at LaGuardia, JFK, and Newark. The Office of Emergency Management has put a Hazardous Travel Advisory into effect, and driving is to be avoided if possible.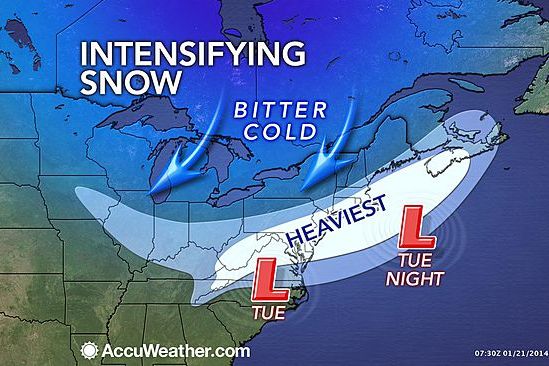 Mayor De Blasio, facing the second snowstorm of his young administration, insists he's ready. "The first one was so exciting, we thought we'd try another," he said yesterday, once again promising to be "very personally involved in the preparations." At a press conference on Tuesday morning, he warned, "We want New Yorkers to stay in to the maximum extent possible this evening."
"As a snow shoveler, I hate the powdery snow," De Blasio added. Expect another photo op in the morning.
The aftermath will be more painful: Wind chills could hit ten below zero tonight, and temperatures Wednesday will crawl back up to just around seventeen degrees. Call the storm whatever you want (we went with Richard Sherman) — it's not going to be fun.
Update, 2:15 p.m.: It's getting serious, which we know because New Yorkers have started the Twitter and Instagram deluge.
Update, 3:01 p.m.: Tell your boss you have to leave early, because the city said so:
The MTA urges customers to leave work early today and finish traveling early tonight, especially those who use Metro-North Railroad and Long Island Rail Road. The storm has arrived earlier than predicted, bringing higher snow accumulation and stronger wind gusts, raising the prospect of snow drifts of up to two feet. Service on railroads, subways and buses can be curtailed or suspended entirely or on a route-by-route basis depending on snowfall accumulation. If you do not need to travel tonight, we urge you not to. If you must travel, monitor Service Status on this page for the most up-to-date information.
Update, 5:15 p.m.: With nightfall comes bigger, more disgusting piles and the transportation nightmares they cause. Good luck out there.

Update, 5:30 p.m.:

This post has been updated throughout.