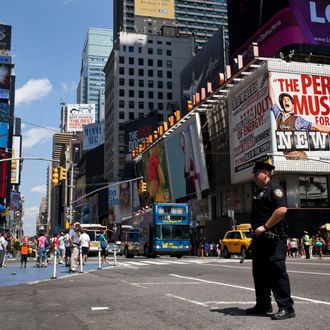 Photo: Andrew Burton ? Andrew Burton / Reuters/Reuters
Decades ago, Times Square had a reputation as the epicenter of the city's illicit sex trade. That famously dissipated under mayors Rudy Giuliani and Michael Bloomberg, replaced by a family-friendly environment anchored by the Disney Store. But now that Times Square has donned the cape of Super Bowl Boulevard ahead of the big game, it has also recovered a bit of its previous sleaze, albeit in a slicker, digital format.
Prostitution arrests are up in the neighborhood, most recently in a series of raids on Wednesday night that netted eighteen arrests in an alleged prostitution and drug ring that sold "party packs" of drugs and sex, advertised online and by text message to regulars. Those on the text list received a pre-game notification that "new sexy & beautiful girls R in town waiting for u," the New York Daily News reports.
One of the locations raided was an apartment on Sixth Avenue and 37th Street, according to ABC New York, which noted this disturbing detail: "The apartment building also doubles as a dorm for a small local college and female students say they were already on alert."
But the overnight raids are just the latest in an ongoing increase in prostitution arrests ahead of the game. On Wednesday, The New York Times's Mary Pilon paid a visit to Manhattan Community Court, on 54th Street, where twenty women were arraigned for prostitution — more than the court usually sees in a month, one defense lawyer said. The city has logged a 30 percent increase in prostitution arrests this year from the same time last year, many around Times Square.
Cops are cracking down on the area deliberately, Anthony Favale, the New York Police Department's vice enforcement coordinator, told Pilon. "Times Square is shut down, and you have a captive audience here. We're cautious and fearful that people are going to come with a mind-set that this is acceptable."
So for visiting thrill-seekers who would prefer not to brush up against New York's finest, it's probably best to stick to the big slide.