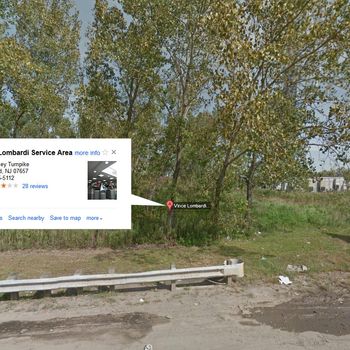 Super Bowl XLVIII is upon us, and with it comes the awkward game of pretending this is a New York event when it's really taking place in New Jersey. Sharing credit has the New Jersey inferiority complex flaring up something fierce: "I passed miffed a while ago. I mean, this is ridiculous," said Senator Cory Booker yesterday. "Every time they talk about the Super Bowl: 'We'll see you in New York.' Well, they're not playing in New York, they're playing in New Jersey."
But even the league's official branding is having a tough time with it. The highly elaborate website Superbowlnyc.nfl.com features "a journey through New York and New Jersey to the Big Game at MetLife Stadium, with several stops along the way." However, the only stop located in Jersey before the stadium: The Vince Lombardi Service Area. A rest stop.
On the New York side: Ellis Island, Times Square, Radio City Music Hall, and Yankee Stadium. Over the river? A service area. Named somewhat ignominiously for the coaching legend, "The Vince Lombardi Service Area is located just 3.5 miles from MetLife Stadium on the Jersey Turnpike," the guide informs us (as noted by the Village Voice).
Yelp has more: "Nathan's, cinnabon, auntie Anne's, Starbucks! Some of my favorite places all in one stop. The only thing that sucks is you can not pump your own gas. Really New Jersey?" Really.
The picturesque view, perfect for Instagrammers from out of town (imagine it with a Hefe filter):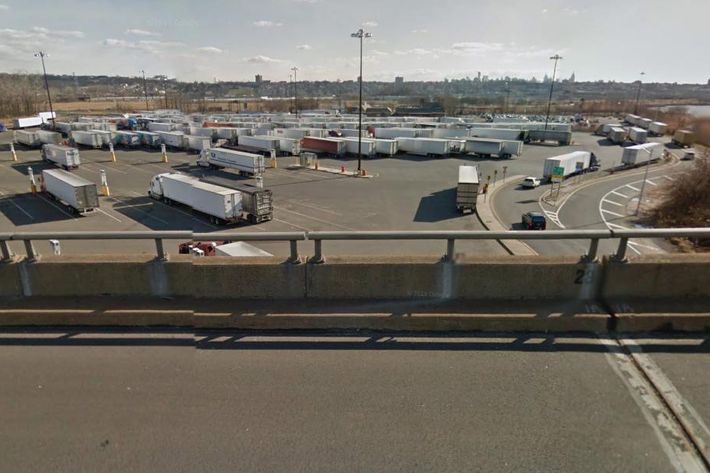 But the can't-miss attraction at the Vince Lombardi Rest Stop, as with any rest stop, is the bathroom. Bathroom review blog, take it away:
… when it comes to bathrooms at service stops, Chris Christie knows what he's doing. This picture of a toilet I took is a bit misleading because I did not actually use it. I used the nearby urinals to carry out my business (#1). The urinals were clean and refreshing. There were no barriers dividing them, but personally this has never been an issue to me. I am comfortable enough with myself to go use a urinal with no dividers right next to a stranger. […]

The sinks were great. The sensors were accurate and the faucets sprayed my hands with warm water. The highlight of my bathroom experience was definitely the hand dryers. I am a huge fan of the XLERATOR.
There you have it: New Jersey's finest. Welcome, world — let's make some memories.