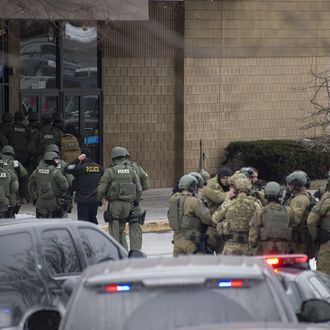 Less than 24 hours after one person was injured in a shooting at South Carolina State University, a man killed two people before killing himself in a suburban Baltimore mall. Law enforcement officials say he began firing shots in a skate shop called Zumiez at the Mall in Columbia at around 11:15 this morning. The building was placed on lockdown, and the police officers sent to the scene found the bodies of the people killed, as well as "one person who was found near a gun and ammunition" who is believed to be the shooter.

Here is footage of officers entering the mall:
A witness named Laura McKindles described what has become a depressingly familiar scene to the Washington Post: "People were yelling, 'Someone's got a gun.' They were screaming." She added, "I mean, what possesses someone to, on a Saturday afternoon, in this cold, to come to a mall and shoot people? Why? I just can't understand what motivates that."
So far, neither the victims nor the gunman have been identified. "We don't know a motive yet," said Howard County Police Chief William J. McMahon. "We are very confident that it was a single shooter, and there was not another shooter in the mall." However, ABC reports that the incident may have been "a domestic dispute involving a man, his estranged girlfriend, and her boyfriend."

This post has been updated throughout.