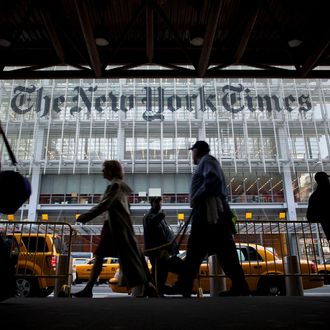 Photo: Michael Nagle/Bloomberg via Getty Images
On Thursday evening, local time, New York Times reporter Austin Ramzy touched down in Taipei, becoming the newspaper's first full-time correspondent in ages to be stationed there. While this is good news for Taiwan, it's not so good for the Times. That's because Ramzy is only going there after China kicked him out of Beijing, making him the second Times reporter the country has booted in just over a year. This has not only the Times but the White House highly annoyed.
White House spokesman Jay Carney addressed the matter in a scolding press release on Thursday:
We are very disappointed that New York Times reporter Austin Ramzy was forced to leave China today because of processing delays for his press credentials. We remain concerned that Mr. Ramzy and several other U.S. journalists have waited months, and in some cases years, for a decision on their press credentials and visa applications.
Curtailing press freedom has been a particular complaint of the Obama White House toward China, one that Vice-President Joe Biden raised on his last visit in December. China's president, Xi Jinping, was unimpressed at the time, "insisting that the authorities treated reporters according to Chinese law."
But neither the law nor much else in China has favored reporters from the Times, ever since it published an expansive exposé in October 2012 that revealed hidden billions belonging to family members of then-premiere Wen Jiabao. Shortly after that story ran, China blocked web access to the Times' Chinese-language edition. It hasn't allowed the Times to add any new correspondents to its Beijing bureau since.
In December 2012, China denied a visa to a longtime China correspondent named Chris Buckley, who joined the Times from Reuters in September 2012. Buckley was forced to leave, and currently reports from the Times' office in Hong Kong. The Times' new Beijing bureau chief, Philip P. Pan, was also denied a visa.
Ramzy, who joined the Times last spring after six years as a China correspondent for Time magazine, learned in December 2013 that there was a problem with his visa, the Times reported earlier this week. The Times says it applied for a visa on Ramzy's behalf back in June, and in the meantime Ramzy had been traveling on the journalist visa he was issued when he worked for Time. Now, Beijing says that was a rule violation. It offered Ramzy a month-long extension in December, but says it won't renew his journalist visa.
Meanwhile, a group of journalists who had been waiting on visas for months finally got them earlier in January, including one for the Washington Post and several for Bloomberg, which has been facing its own set of problems in China after a 2012 report on the wealth of Xi Jinping and other elite. All told, it's a difficult time to be reporting in China. Especially if you happen to be doing so for the Times.