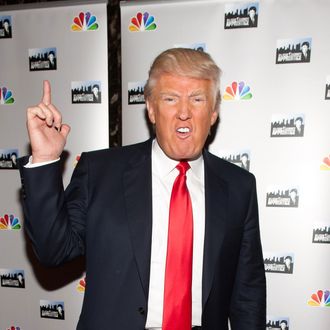 Photo: D Dipasupil/FilmMagic
Donald Trump, who has been toying with the possibility of pulling another publicity stunt for a few months now, told the Buffalo News that he is giving "very, very serious consideration" to the idea of running for governor of New York when Andrew Cuomo is up for reelection next year. Trump, who gave the interview after a two-hour meeting with more than three dozen Republican New York officials, said that he believes Cuomo "is absolutely vulnerable on so many issues," such as taxes. Trump, of course, would run on a platform of "massive tax cuts." "Who wouldn't love to see massive tax cuts?" he asked.
But to earn the dumb spectacle of a Trump gubernatorial campaign, state Republicans will have to meet some unrealistic demands: "If we could have a unified party with everybody backing properly, I would do it and I think I'd win," Trump told the Buffalo News. When the New York Daily News asked him to clarify what he meant by "a unified party," he explained, "You can't have primaries. You can't have all the wasted time and effort in doing that. You have to pick somebody and go to win. If that couldn't happen, I wouldn't do it." Trump said he'll decide whether or not he wants to run by early February, so we're in for at least a month of this.