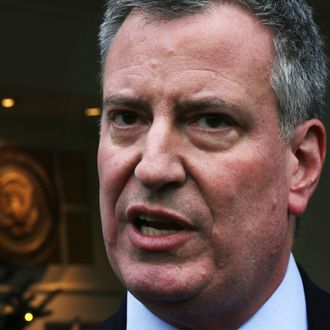 Photo: Alex Wong/Getty Images
Feeding the privilege monster only makes it hungrier. When the New York Post gleefully provided a soapbox for rich Upper East Siders to complain about the De Blasio administration's slow snowplowing, it was absurd in every way ("He is trying to get us back," said one woman wounded in the class war). But by folding — "I determined more could have been done to serve the Upper East Side," said the mayor later — De Blasio only emboldened their entitlement. Now they're whining about trash.
"This is bullshit," one man "griped" in today's edition of guess-which-tabloid. "First, De Blasio didn't take care of us during the snowstorm, and now he's letting us stew in our own garbage and recyclables." In case the reverse "Tale of Two Cities" theme wasn't clear enough, another man said that the remaining trash is "piling up higher than the SUVs" — the SUVs! — and that the mayor "should be the people's mayor, taking care of everybody." "Ignoring us isn't going to make the neighborhood go away," he added. (There's no way he kept a straight face.)
A spokesperson for De Blasio said, "Any allegations that neighborhoods were chosen over others for trash removal are totally absurd." But the mayor initially said the same about the snow. It was the later apology that brought us here, that allowed this nonsense to happen again, and it must not be repeated. There's no appeasing these people — they complain for sport. Please, Mr. Mayor, don't play their game. Or it's going to be a long four years of losing.