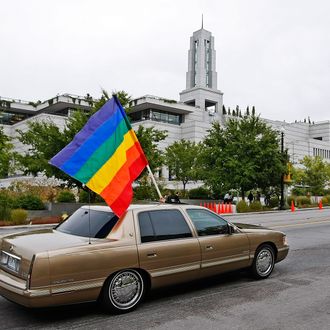 Photo: George Frey/Getty Images
Earlier this week, the Supreme Court issued a stay against a federal judge's surprise December 20 decision to allow same-sex couples to wed in Utah while the state's marriage equality opponents appeal the ruling. And, on Wednesday, conservative governor Gary Herbert said that Utah would not recognize the 1,300 gay marriages performed in the nineteen days before the Supreme Court stopped them. However, on Friday, Attorney General Eric Holder announced that the federal government will extend marriage benefits to the gays and lesbians who rushed to get Utah licenses.
"I am confirming today that, for purposes of federal law, these marriages will be recognized as lawful and considered eligible for all relevant federal benefits on the same terms as other same-sex marriages," Holder said in a video posted to the Justice Department's website. "These families should not be asked to endure uncertainty regarding their status as the litigation unfolds." The Tenth Circuit in Denver might start hearing oral arguments as soon as March, and the ruling could affect all the states in its jurisdiction, which includes Utah, Colorado, New Mexico, Kansas, Oklahoma, and Wyoming. In the meantime, Utah's same-sex newlyweds are at least considered married in the United States, if not their home state.