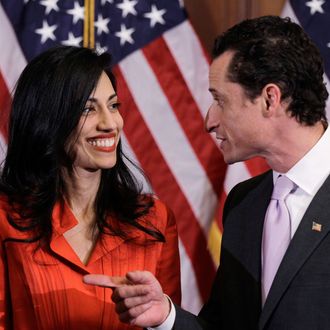 Photo: Charles Dharapak/AP/Corbis
Over the last year, Anthony Weiner went from serious contender for mayor of New York to a guy who might get the chance to become a talking head on NY1 (which isn't a bad gig, but still). And on Tuesday, the New York Post claimed that Weiner and Huma Abedin are in the market for an apartment that will reflect Weiner's somewhat reduced station in life. According to the tabloid, the lease on couple's $12,000-a-month Park Avenue South place is up soon, and a real-estate broker said they recently toured a "three-bedroom, 2¹/₂-bathroom unit at 340 E. 23rd St., the Philippe Starck­ designed building near Second Avenue dubbed Gramercy Starck." Of course, the aforementioned home would still set the Weiner-Abedins back $8,000 a month, as they remain very wealthy and ambitious people.
Update: Weiner reacted to the Post's story about his house hunt on Twitter:
The @CitiHabitats tweet hinting at their agent Brian Morgan's famous client and supposedly re-tweeted by Weiner doesn't appear on the company's account. So, either Citi Habitats deleted it, or Weiner just thought this was a cuter way to express his frustration at his indiscreet real estate broker.