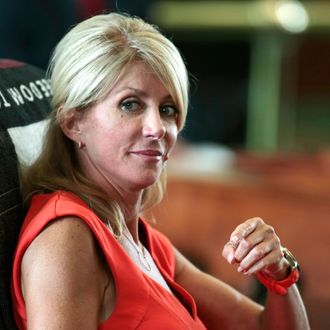 Photo: Erich Schlegel/Getty Images
No one expected Wendy Davis's campaign to be the first Democratic governor of Texas in twenty years to be easy, and over the weekend she experienced the first bump in the road. The story of her journey from being a divorced teenage single mother to a graduate of Harvard Law School is a key part of her campaign, but according to the Dallas Morning News, she got some of the details wrong. In a recent lawsuit, Davis testified, "I had a baby. I got divorced by the time I was 19 years old … After I got divorced, I lived in a mobile home park in southeast Fort Worth." She now admits that she was 21 when she divorced Frank Underwood (no relation) and spent only a few months in the family mobile home before moving to an apartment with her daughter.

Davis's website says she made her way through college and Harvard Law School "with the help of academic scholarships and student loans," but her second husband, with whom she had a second daughter, also made significant financial contributions. When the future state senator met lawyer Jeff Davis, she was working two jobs and attending Texas Christian University on an academic scholarship and a Pell Grant. After their marriage, he paid for the last two years of her undergraduate degree. While Davis attended Harvard Law School, her husband cared for the two girls back in Texas and helped pay her tuition, cashing in his 401(k) and taking out a loan. 
When asked about the shocking revelation that her spouse helped her complete her education, Wendy Davis responded, "It was community resources. We paid for it together." He doesn't seem bitter about it either. "I was making really good money then, well over six figures," he told the paper. "But when you've got someone at Harvard, you've got bills to pay, you've got two small kids. The economy itself was marginal. You do what you have to do, no big deal."
Jeff Davis did say it was "ironic" that Wendy left him the day after he made the last payment on her student loan, but she said the idea that the two events are connected is "absurd." "I was a vibrant part of contributing to our family finances from the time I graduated to the time we separated in 2003," said Davis. When they divorced two years later, he was granted parental custody and she paid child support.
Wendy Davis acknowledged last week that she and her aides made some errors and omissions when discussing her biography. "My language should be tighter," she said. "I'm learning about using broader, looser language. I need to be more focused on the detail."