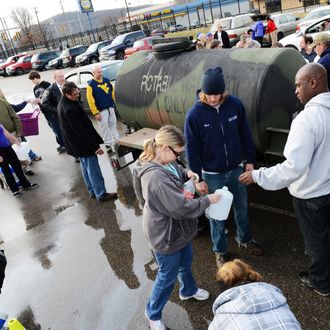 Photo: Tom Hindman/Getty Images
Some residents of West Virginia's capital of Charleston, who have been under orders since last Thursday not to use their taps after a chemical spill affected the public water supply, will finally get to shower and brush their teeth as the ban was lifted on Monday. But not everybody gets to do so at once. Only 5,000 customers, including large-scale industrial users, will get water at first, a West Virginia American Water Co. spokeswoman told CNN. She said the company hoped 25,000 customers would get water by the end of the day. Customers must flush their lines before using the water, and state officials said a rush to open all the taps would create system-wide havoc with the water pressure. At this rate, it's still going to be a while before all 300,000 people affected finally get access to tap water.
Flushing all the lines of the toxic, licorice-smelling chemical 4-methylcyclohexane methanol, which is used to process coal, will take days, the water company's president, Jeff McIntyre, told CNN. So while they get service restored, residents are keeping track of the progress on this map of areas affected by the spill. Bottled water, thankfully, remains in good supply.