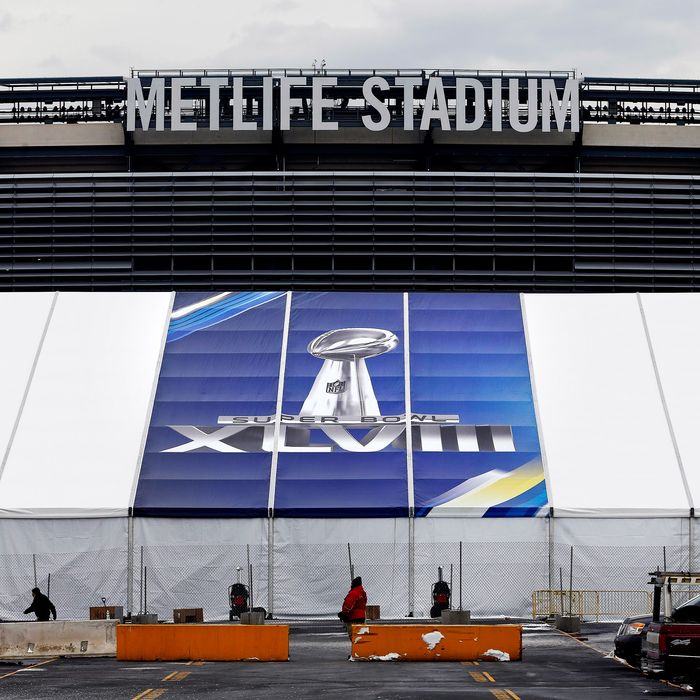 MetLife Stadium.
Photo: Jeff Zelevansky/Getty Images
The NFL has historically awarded the Super Bowl only to warm-weather cities or ones with climate-controlled, domed stadiums. In fact, league policy states that for the championship to be played in an open-air stadium, the average temperature at the site must be at least 50 degrees on the day the game is scheduled. Such a rule not only increases the odds of optimal conditions for the game itself, but means that fans, sponsors, and other assorted bigwigs can watch comfortably from the stands. So how, then, did MetLife Stadium in northern New Jersey —where the average high on February 2 is 40 degrees and the average low is just 25 — land football's biggest game? New York spoke with the owners of the Jets and Giants to find out.
Conversations about a New York–area Super Bowl began shortly after the 9/11 attacks, when then-commissioner Paul Tagliabue proposed the idea to help the region recover both financially and emotionally. The idea would then be revived as the Jets and Giants neared completion of their $1.6 billion, jointly operated stadium. "The owners of the NFL teams like to bring the Super Bowl to new facilities," says Giants co-owner owner Jonathan Tisch, a co-chair of the Super Bowl XLVIII Host Committee, and in 2009, the league's owners voted to waive the 50-degree rule, thereby allowing the Jets and Giants to make their pitch for a Meadowlands Super Bowl. Tisch says it wasn't necessary for the Jets and Giants to lobby the other owners to make the change.
After learning that current commissioner Roger Goodell supported the idea, the Jets and Giants began to put together a proposal, which Tisch and Jets owner Woody Johnson later presented at an owners meeting in Dallas in 2010. They highlighted the New York/New Jersey region's tourism infrastructure, its diversity, and its place as a center for entertainment and business. They also detailed their contingency plans for poor weather, and played up the fact that many of the league's greatest games have been played in inclement conditions.
Johnson, also a co-chair of the host committee, says a New York/New Jersey Super Bowl wasn't a particularly hard sell. "I think the other owners made the decision, regardless of whatever pitch we gave them. They recognized that it was good for the NFL, and good for the Super Bowl." There were two other bids for Super Bowl XLVIII — Tampa and South Florida — and New York/New Jersey won on the third ballot, back in May of 2010. "Owners from northern cities voted in support of the game being at MetLife Stadium," says Tisch, "and my sense is that if it's successful, as it will be, other northern cities might put in proposals for the game to be in their facilities."
As for the ticket holders who will have to brave the cold on game day? "They do it in Green Bay every day," says Johnson. "It's cold up there, and no problem. Just put another layer on, and you'll be good."