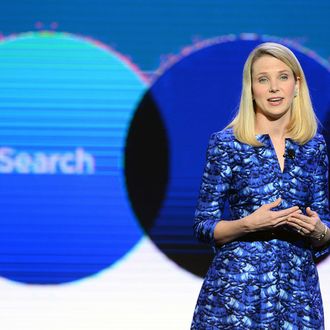 Marissa Mayer.
Photo: Ethan Miller/Getty Images
Since Marissa Mayer took over at Yahoo, I've given her turnaround attempt better-than-average chances, if only because Yahoo has two huge advantages over other Internet portals. First, it owns a part of Alibaba, the enormous Chinese e-commerce site that is selling much more stuff than Amazon these days. Second, Yahoo still gets a surprising amount of traffic.
Last month, according to Comscore, Yahoo was the most visited site from desktops on the entire Internet, with 224 million unique visitors. Google was second with 192 million.
If anything, Yahoo's continued traffic dominance is proof of the power of habit among Internet users. The basic formula of the site's homepage — a one-stop shop for e-mail, news, stocks, sports, and more — hasn't changed in more than a decade. And although lots more sophisticated news and e-mail operations now exist, millions of people have kept their browsers tuned to Yahoo.com, either out of loyalty to the company's products or because of simple inertia.
Yahoo has plenty of problems as a business. But, luckily for Mayer, getting traffic isn't one.