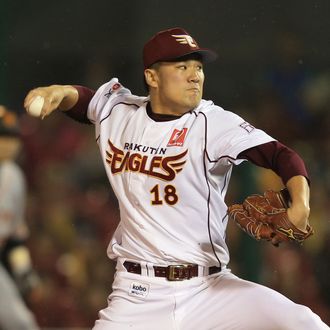 Masahiro Tanaka.
Photo: Jiji Press/AFP/Getty Images
The Yankees' off-season of big spending (on everyone but Robinson Cano) is still under way: They've reportedly agreed to a deal with Japanese star Masahiro Tanaka worth $155 million over seven years — the fifth-largest deal ever given to a pitcher. The potential effect on the team's roster is obvious: If Tanaka is the pitcher the Yankees expect him to be, it's a huge boost for the rotation. The 25-year-old Tanaka, who last season posted a 1.27 ERA and a 0.943 WHIP in Japan (and, for what it's worth, went 24-0 with the Rakuten Golden Eagles), will likely start the season as the team's No. 2 starter behind CC Sabathia. But the signing also effectively ends the team's much-discussed efforts to get under the $189 million luxury-tax threshold.
One can't say the Yankees never made an effort to get under the $189 million mark, which would have allowed them to avoid paying a luxury tax in the short term, and then be treated as first-time offenders if (well, when) they went above it again. In recent seasons, they behaved like a team that wanted to keep its payroll as low as possible beyond 2013, which meant seeking out bargain-bin players, preferring short-term deals, and getting creative with trades that wouldn't leave them with a large financial burden. The Yankees' roster wouldn't have looked the way it did in 2013 if they weren't making a serious effort to reduce payroll.
But then the Yankees went 85-77 and missed the playoffs for just the second time since the 1994 strike. And just like they did the last time they found themselves outside the postseason picture, they responded by opening their checkbook. They didn't spend at any cost: They considered it irresponsible to give Robinson Cano, the biggest prize on this year's free-agent market, a ten-year contract, even if it meant losing a valuable (and popular) player.
But they handed out expensive deals to Brian McCann, Jacoby Ellsbury, Carlos Beltran, and now Tanaka. In all, the total dollars spent on big-ticket free agents this off-season topped such spending during the 2008–09 off-season, when they reloaded with CC Sabathia, Mark Teixeira, and A.J. Burnett after missing the playoffs. Their payroll now exceeds $189 million, meaning they'll pay a 50 percent tax on every dollar over that amount.
Ultimately, though, the Yankees' front office might have been spooked by more than just the possibility of missing the playoffs again. They also had reason to fear that the "Yankees excellence" brand they work so hard to cultivate could be damaged. The Yankees have always been the franchise that spends crazy amounts of money to bring in the best players; not coincidentally, they win a lot of baseball games, which means more money, allowing the cycle to continue, particularly back in an era before harsh luxury taxes. It's that brand that allows them to get away with, say, charging so much for tickets. The Yankees aren't just a baseball team. They're a perfume. And a cable network. And a Broadway show. They see themselves as something of a prestige franchise, a premium product. And it's because of that status that all the other things are possible.
That reputation could have taken a hit this year, along with their win-loss record. The Yankees, coming off a season in which they cut costs and missed the playoffs, saw their best player leave for more money from the Mariners. (The ongoing A-Rod circus doesn't exactly scream "Yankees excellence," either.) Maybe the loss of Cano would be balanced, in the minds of fans, by the signings of McCann, Ellsbury, and later Beltran, but another high-profile addition helps the Yankees maintain their Yankeeness, even before the season begins. The Yankees' hope is that the net result of the off-season is more wins in 2014, and an ultimate result similar to the 2009 season, when they won the World Series following their last spending bonanza. No one, after all, writes Broadway shows about third-place teams with an aging roster and a bloated payroll.
There's a Hal Steinbrenner quote that now seems to explain the Yankees' true philosophy. Last May, he explained that he really thought the Yankees could get under the $189 million threshold and still thrive, but that "the key is going to be the young players stepping up and really making contributions like they're doing right now." Presumably, he was referring to players like David Robertson and Ivan Nova, who have contributed despite not making huge money. But for the Yankees' $189 million plan to really succeed, they would have needed to develop even more young players (guys like Francisco Cervelli and Dellin Betances) who could play key roles without taking up too big a slice of the payroll pie. (Failing that, they could hope to acquire young impact players, like Michael Pineda, from other teams.) But all that hasn't really worked.
And so Plan B was to keep spending, maybe not to infinity, but to the point where they could better themselves in a substantial way via free agency, luxury taxes be damned. The only penalty, after all, is money (albeit a lot of it), and that's not the kind of thing the Yankees are supposed to shy away from.