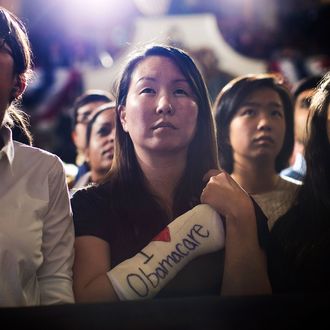 Photo: Yoon S. Byun/The Boston Globe via Getty Images
The White House released the first demographic data on health-care enrollments on Monday, confirming that those in the first wave of people signing up for Obamacare are older and potentially less healthy. More than half of those who enrolled by the end of December were between 45 and 64, just below the age when people qualify for Medicare. People ages 55 to 64 made up the largest group, at 33 percent, and people ages 18 to 34 comprised only 24 percent of total enrollments. That's well below the Obama administration's goal of having young people make up 40 percent of enrollees by March 31, though they can still catch up.
Naturally, Republicans were quick to highlight the latest evidence of Obamacare's failure. "When they see that Obamacare offers high costs for limited access to doctors — if the enrollment goes through at all — it's no surprise that young people aren't rushing to sign up," said Brendan Buck, a spokesman for John Boehner.
The news prompted some concern that premiums will increase if there aren't enough young people to subsidize older and sicker enrollees. Larry Levitt, an insurance expert with the nonpartisan Kaiser Family Foundation, told the Associated Press the current demographic mix would cause premiums and taxpayer cost to go up – but not enough to trigger a "death spiral" of skyrocketing rates. "It's nothing of the sort that would trigger instability in the system," Levitt said.
He added that the figure still "underscores a need to heighten outreach efforts to young people," but many expected enrollments among young people to be low in the first few months. Obama administration officials said they were already planning to increase outreach, particularly around National Youth Enrollment Day on Feb. 15. And if the rollout of Romneycare is any indication, youth enrollment in the new health marketplaces may actually be right on track. The Washington Post's Sarah Kliff notes that in 2006, the initial young adult enrollment in Massachusetts was below 24 percent, but the numbers kept climbing as the deadline approached. Last month, the 18 to 34 group saw the largest spike in enrollments, with an eight-fold increase, suggesting procrastination is a trait common among young, healthy Americans nationwide.