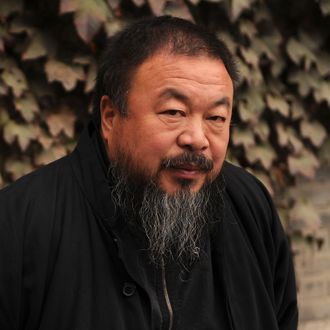 Ai Weiwei.
Photo: PETER PARKS/2010 AFP
A local artist paid Ai Weiwei a strange compliment on Sunday by smashing one of the sixteen vases in the Chinese artist and activist's installation "Colored Vases" at the Pérez Art Museum Miami. Maximo Caminero tells the Miami New Times that he was protesting local museums excluding Miami artists while spending "many millions now on international artists." He was inspired by one of Ai's most famous works, "Dropping a Han Dynasty Urn," a series of photographs in which Weiwei smashes an ancient Chinese vase. "I saw it as a provocation by Ai to join him in an act of performance protest," said Caminero.
"I admire Ai Weiwei greatly and have always supported his actions while he was suffering indignities from the Chinese government," Caminero explained, adding that he wasn't aware he was also smashing an ancient artifact. "I thought it was a common clay pot like you would find at Home Depot, frankly," he said of the $1 million vase.
Ai wasn't moved by Caminero's protest, saying, "His argument doesn't make much sense." But he also took the damage to his art rather well. "I'm O.K. with it, if a work is destroyed," Ai said. "A work is a work. It's a physical thing. What can you do? It's already over." Caminero was arrested and charged with criminal mischief.