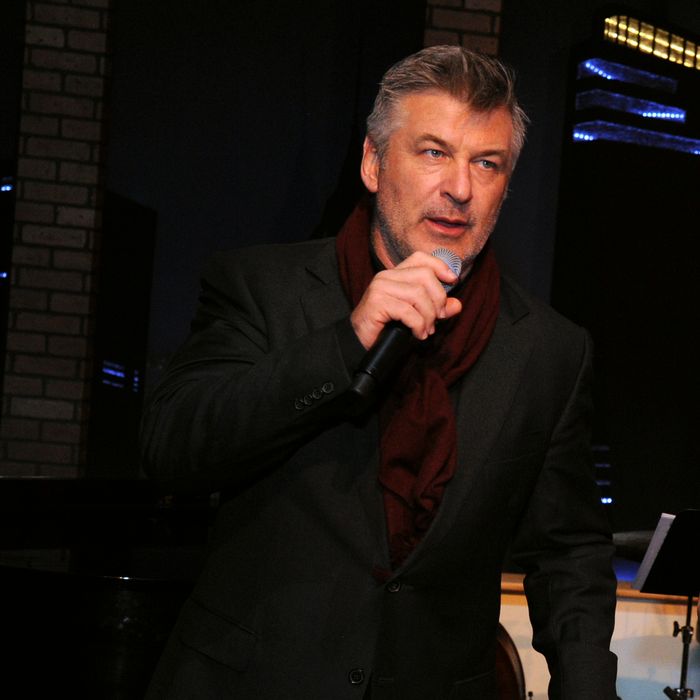 Photo: Ilya S. Savenok/2014 Getty Images
"Who's going to win, the sex therapist or the leather-goods dealer?" riffed Alec Baldwin, attempting to up the going rate on a pair of U.S. Open tickets. The host was presiding over a bidding war between two audience members he had dubbed Kenneth Cole and Dr. Ruth, and things were moving slowly. Baldwin had only been on stage for a few minutes, but the inattentive crowd and disquieting lack of bids were enough to make the actor look pained. "Play the game, guy; play the game or stay away from the table," Baldwin joked, his jaw tightening noticeably during speaking breaks.
Baldwin was the Big Draw at Friday night's "Big Game, Big Give Event," a party and auction raising money for the Giving Back fund. In a vast space decorated like a cross between a Long Island wedding and an overwrought Bat Mitzvah, the actor put in his best effort to raise money, but guests — perhaps feeling tapped out after paying $1,500 for tickets — were reluctant to the abandon the stands full of free Patrón and Heineken to give back. Some of the big ticket items, like a trip to the Dolphin Tale 2 premiere in L.A., and a piece by license-plate artist Michael Kalish, went un-bid upon, putting a notable strain on the proceedings (there were multiple appeals from the hosts to quiet down) and clearly becoming so enervating for Baldwin that he made a beeline for the door after unloading only three items.
After the auction fizzled out, a few-hundred strong holdout of reality TV stars, venture capitalists, DirectTV employees (one of the night's sponsors) and a smattering of football players remained to congregate under the brightly colored lights and mill around the pink-sequined tabletops. A magician entertained in one enclave, while next to a blue-lit cherub fountain, a five-foot long edible replica of the MetLife stadium gleamed like a trophy. "I'll give you $1,000 to start eating that cake like Homer Simpson," one guest offered.
There were a few bold-faced names in attendance, although they were hard to spot; as far as Super Bowl parties go, when you're competing against a Playboy Party and wherever Biebs is, the celebs that end up going to an invite-only silent auction thrown by Alec Baldwin turn out to be a real mishmash. A promised Sheryl Crow never showed up, but Twilight's Peter Facinelli was making the rounds, as were Houston Texans running back Arian Foster and Arizona Cardinals defensive end Calais Campbell, The Blacklist's Amir Arison, Real Housewife Kyle Richards, and Alan Dershowitz, marking perhaps the only time Alan Dershowitz has been in the same room as a Real Housewives star outside a courtroom setting.
We chatted with the musical artist and producer Swizz Beatz, who was hanging around in a corner recovering from a root canal (and from last week's Grammy partying) and sipping on a strong cocktail called an Apple Buzz. He didn't look like he was having much fun, although he acknowledged taking a spin in one of the model cars displayed in the upstairs "Lamborgini Lounge." "I own one, but I don't own the ones upstairs. I own the hard top one with the drop top," he said. The Lambo aficionado, who had snagged "a couple of booths" for Sunday's game, had high hopes for the halftime show. "I think that [Bruno Mars] might shock it, cause I think anybody else would have been predictable. Bruno's coming to rock the house, guaranteed," he said. Regarding the outcome of the game itself, Swizz echoed an ambivalence much on display at the party: "I'm rooting for the Knicks at the Knicks game, but at the Super Bowl I'm rooting for the winners."
Dershowitz, likewise, had no dog in the fight. "I'm rooting for a good game, but I guess Seattle really has the advantage," said the famed lawyer, who didn't shell out for a booth. "No, it's too cold. We're going to have people over."
The evening ended promptly at 10 p.m., with the crowd thinning out by around 9:30 as trays of flourless chocolate cakes and tiny cheesecakes were making the rounds. As few stragglers waited around the massive Super Bowl cake — guests had been promised they could take home a slice featuring their Game Day seat — until a waiter came over to deliver some bad news. "That was false information, you do not want to eat this cake," he said. "It's been sitting out for, like, two days."