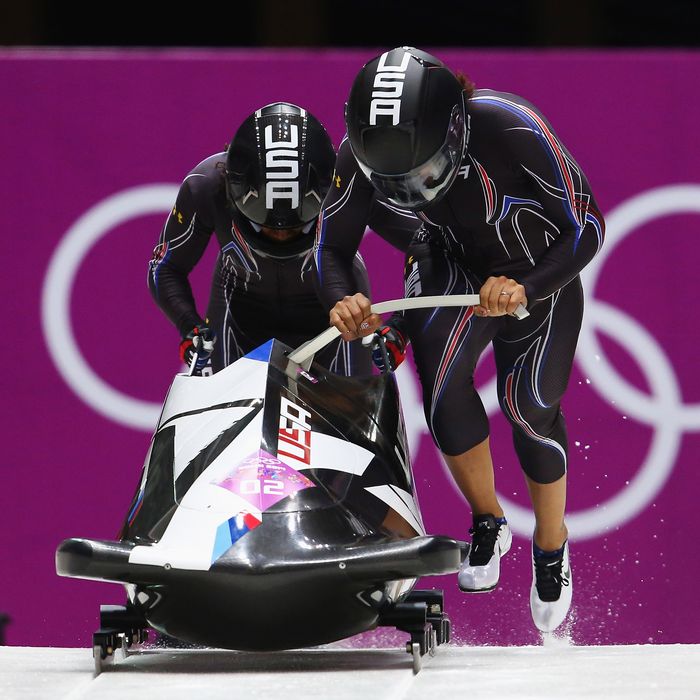 Elana Meyers and Lauryn Williams.
Photo: Julian Finney/Getty Images
Lolo Jones is one of the most familiar names on the U.S. Olympic team, but for the most part, it's not because of her accomplishments as a bobsledder: She gained widespread fame as a hurdler on the 2008 and 2012 U.S. Olympic track teams, and she's gotten attention for her rags-to-riches story, her revelation that she's a virgin saving herself for marriage, and, yes, because of her looks. Her selection to the U.S. bobsled team for the Sochi Games, just 16 months after she took up the sport, was controversial, with some wondering whether her celebrity helped her win a spot on the team.
But through one day of the women's bobsled competition, Jones and teammate Jazmine Fenlator are in just 11th place. In first? Fellow Americans Elana Meyers and Lauryn Williams. And like Jones, Williams is a track star relatively new to the sport.
Williams won two Olympic track medals, including a gold in the 4x100 relay from the 2012 London Games, before retiring from track last June. Williams's selection for the American bobsled team didn't generate the attention that Jones's did, but it was plenty controversial, too: She'd never been in a bobsled until July, and had participated in just four World Cup races.
In fact, her attempt to make the bobsled team wasn't widely publicized until after she finished seventh at a combine last July for Olympic hopefuls, which tested them in events like sprints, a broad jump, the shot put, and weight-lifting. (As you might imagine, she dominated the running races, losing just one of them — to Jones, by 0.01 seconds.)
But despite her relative lack of experience in bobsled competitions, coaches liked the way she performed in unofficial training runs, and placed her with Meyers in the top American sled, even though the two had raced together just once this season.
A recent AP article about Williams describes her understanding of how a bobsled works as "rudimentary at best," even as she was about to make her Olympic debut in the sport. Still, her combination of strength and speed have put her in a position to potentially win gold tomorrow as the brakesman in the top U.S. sled. Williams will make history if she and Meyers can indeed hang on for gold: She'd become the first woman and second person ever to win a gold medal in different events at the Winter and Summer Olympics.