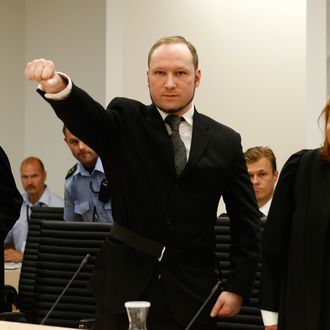 Photo: HEIKO JUNGE/AFP/GettyImages
Norwegian mass-murderer and all-around monster Anders Breivik, the right-wing extremist responsible for killing 77 people, mostly teenagers, in 2011, has somehow made himself more hateable. In a letter obtained by AFP, Breivik threatened to go on a hunger strike unless his Oslo prison, where he's serving the absurdly low maximum sentence of 21 years, eases its "torture." Among his requests: better video games, a new computer, and more money.
He also demanded the replacement of a PlayStation 2 game console with a more recent PS3 "with access to more adult games that I get to choose myself," as well as a sofa or armchair instead of a "painful" chair.

"Other inmates have access to adult games while I only have the right to play less interesting kids games. One example is 'Rayman Revolution,' a game aimed at three-year-olds," wrote the 35-year-old convicted killer. […]

Breivik also wants his standard weekly allowance of 300 kroner ($49, or 36 euros) to be doubled, particularly to cover his postal charges for written correspondence. […] Other demands include an end to daily physical searches at Ila prison and access to a PC rather than a "worthless typewriter with technology dating back to 1873."
This is where he lives. No, it is not a college dorm: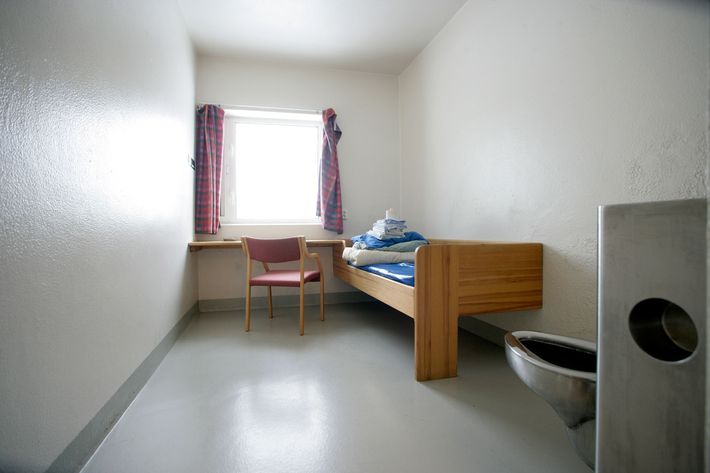 Calling himself a "political prisoner" and "human rights activist," Breivik wrote, "You've put me in hell … and I won't manage to survive that long. You are killing me … If I die, all of Europe's right-wing extremists will know exactly who it was that tortured me to death." Maybe let him starve?