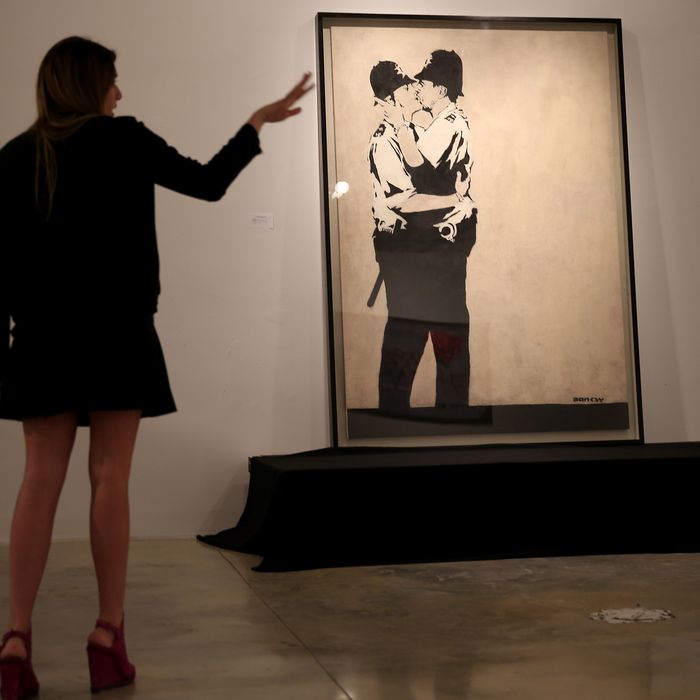 Photo: Joe Raedle/Getty Images
The problem with trying to cash in on Banksy, if the artist should happen to grace your building with a valuable original work, is that it can be incredibly difficult to remove and transport the artwork, often done on a brick or concrete wall. But despite that, a New York dealer transported two of the heavy artworks down to Florida for an auction on Tuesday night, yielding mixed results. While one piece, the self-explanatory Kissing Coppers, which was not part of the New York series but was taken from a pub wall in Brighton, sold for $480,000, plus $95,000 in fees, two others from the New York series failed to meet their reserves.
The relatively portable Crazy Horse, in the form of a door taken from a car that was part of a much larger Lower East Side installation, was priced at $100,000 and did not sell. Bandaged Heart, the piece from Red Hook that immediately became the scene of a little tagging war with someone going by Omar, carried a price of $200,000 and also did not sell. It reportedly weighed 7,000 pounds.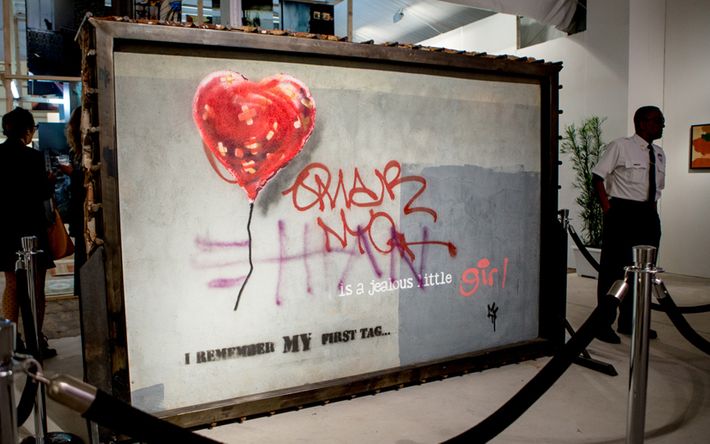 It seems overvaluing Banksy's works is pervasive among those who suddenly find themselves owning one. The Upper East Side art dealer who bought the works to sell at auction "said he was contacted by seven or eight other de-facto owners of Banksy's Big Apple produce, but said they wanted too much money," according to the New York Daily News.
Kissing Coppers, the one piece that did sell, was expected to fetch between $500,00 and $700,000, and hit the very bottom of that range. So it seems while there is a market for Banksys out there, it's not quite as hot as many a giddy Banksy "victim" thought.