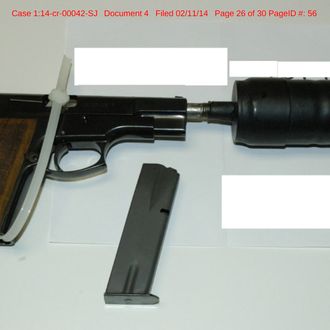 A team effort between the FBI and the Italian National Police has resulted in the arrest of dozens allegedly tied to organized crime who now stand accused of doing organized crime things: trafficking drugs, laundering money, and selling guns. Seven men were arrested in New York City overnight, including associates of the Gambino and Bonanno families, while another seventeen accused members of the 'Ndrangheta, the "shadowy Calabrian mafia," were picked up in Italy. Together, along with an undercover FBI agent, the guys allegedly conspired — in a Brooklyn bakery and Manhattan Dunkin' Donuts, no less — to move heroin and cocaine internationally. But that's not all.
Highlights, as usual, include the nicknames that turn up in court documents. In this case, we're working with Raffaele "Lello" Valente, Charles "Charlie Pepsi" Centaro, someone known plainly as "Freddy," and cameos from "Vinny TV" and "Tall Pete."
The alleged smuggling methods, as detailed by the FBI, included coconut milk, pineapples, and frozen fish:
In conversations recorded by the undercover agent, the conspirators discussed their connections to Mexican drug cartels operating in Guyana, South America, and plotted to transport 500 kilograms of cocaine internationally, hidden in shipments of frozen fish or pineapples.

As set forth in Italian court documents, the conspiracy slowed when shipping containers originating from the same Guyanese shipping company were seized in Malaysia and found to contain more than $7 million in cocaine hidden in pineapples and coconut milk.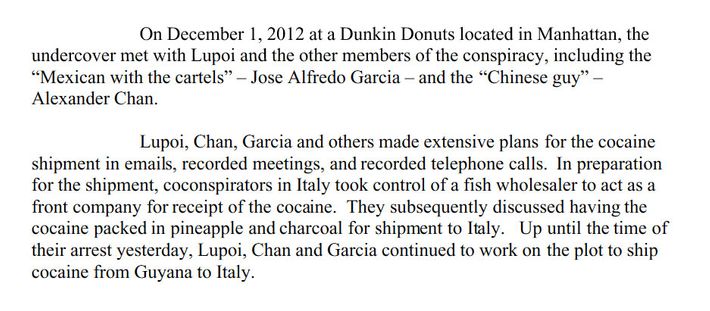 And while hard drugs were the focus of the business, and thus the bust, they also dabbled in weed: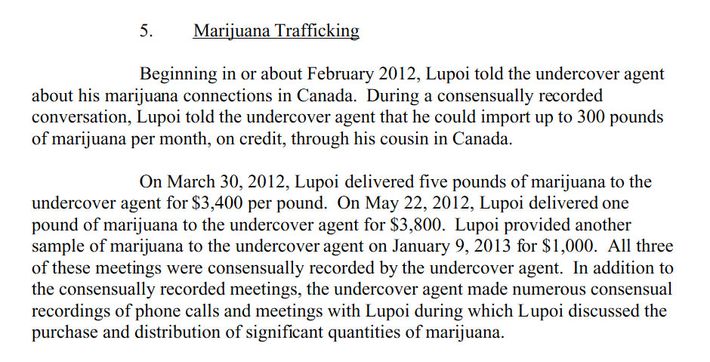 And guns:

And counterfeit money. "In the course of the investigation, Valente provided the undercover agent with a sample counterfeit U.S.$100 bill," says the pre-trial memo. "Valente's access to counterfeit currency makes any bond amount meaningless, as he could flee with counterfeit currency or attempt to pay off suretors with the counterfeit funds or proceeds from the sale of those counterfeit funds. Valente's extensive ties to Italy, his access to large amounts of counterfeit currency and his willingness to engage in criminal fraud in furtherance of his schemes demonstrate that he is a significant flight risk."
The seven defendants in the U.S. are scheduled to be arraigned this afternoon.