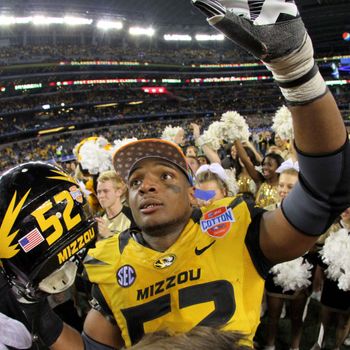 Photo: Matthew Visinsky/Icon SMI/?Icon Sports Media Inc. (Icon SMI) All Rights Reserved contact: sales@iconsportsmedia.com http://iconsportsmedia.com
On Sunday night, University of Missouri defensive lineman Michael Sam, who's likely to be drafted into the NFL in April, revealed that he's gay. "There will be negativity, negative reactions," he predicted in his interviw with ESPN. "I expect that. … Everyone can say hurtful things and hateful things; I don't let stuff like that distract me. But there are going to be positives. The positives will outweigh the negative." So far there's been some grumbling from anonymous NFL sources, but football players' public reactions are encouraging. Perhaps the professional athletes who smash into each other for a living are actually tough enough to handle having a gay person on their team. 
First, let's get the few somewhat negative reactions out of the way. Patrick Crayton, a former Cowboys and Chargers wide receiver who hasn't played in the NFL since 2011, spent the night arguing with people on Twitter after predicting Sams's revelation will overshadow his career – though he insisted, "Have nothing against anyone being gay. I may not get it but it's not for me to get!!!"
As Deadspin noted, ESPN probably could have found someone better informed than former player and head coach Herm Edwards. In addition to repeatedly calling Sam "Sams," he compared him to a "player with off the field issues […] he's bringing baggage into your locker room."
Many NFL players had a far more positive reaction.
Sam said his University of Missouri teammates, "I wouldn't have the strength to do this today if I didn't know how much support they'd given me this past semester." We got to see a bit of that on Twitter Sunday night.
Sam joined Twitter on Sunday night, acquiring more than 45,000 followers in just a few hours. He used his first tweets to thank everybody one more time.
Outside of the world of football, Sam has already connected with the one person who probably understands his situation better than anyone else: NBA player Jason Collins, who became the first openly gay man in a major sports league last year.