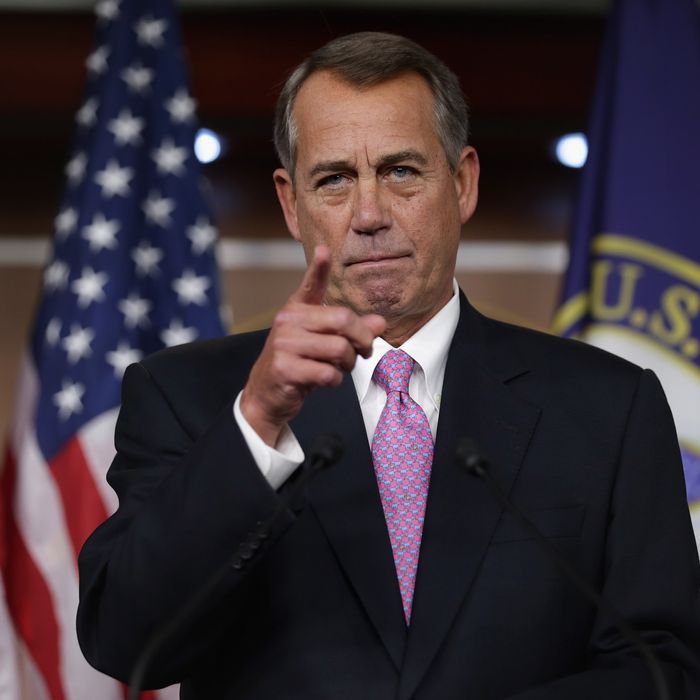 Photo: Chip Somodevilla/2013 Getty Images
In his State of the Union address last week, President Obama said we need "to fix our broken immigration system," so it may come as a surprise that he's the main reason the House can't pass an immigration reform bill … according to John Boehner. At his weekly press conference on Thursday, the speaker signaled that House Republicans won't take up the issue this year, or at least not until after the midterm elections. Boehner said trust was one of the biggest obstacles. "There's widespread doubt about whether this administration can be trusted to enforce our laws," Boehner said. "And it's going to be difficult to move any immigration legislation until that changes."
Another possible factor:  Republicans balked at the "standards" for immigration reform the House GOP leadership laid out last week. Boehner said these are "principles that our members by-and-large support" on Thursday, but there's little to suggest that's the case. In the last week, many Republicans said the party shouldn't take up such a difficult issue before the election, and some suggested pushing the issue could cost Boehner his speakership.
"He put a test balloon up there — and I thank him for that — but I don't think he got the majority support, so he's going to try to put blame on the president," Representative Henry Cuellar, a Texas Democrat, told the Washington Post.
White House Press Secretary Jay Carney dismissed Boehner's suggestion that Obama can't be trusted to enforce border security laws, noting that the administration has deported almost 2 million immigrants. "The challenges within the Republican Party on this issue are well-known, and they certainly don't have anything to do with the president," Carney said.
Despite their differences, many Republicans were able to get behind Boehner's assessment of the situation. Republican Senator Lindsey Graham, who helped pass the Senate's bipartisan immigration reform bill in June, tweaked the speaker's message to make it even more on point for the midterms. "One of the casualties of Obamacare is it makes it hard for politicians to do big things," Graham said. "They're complicated to administer, and the president has shown a willingness to unilaterally change provisions that are politically harmful." The Affordable Care Act strikes again!