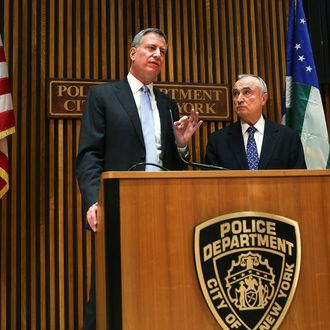 De Blasio and Bratton together last month.
Photo: Spencer Platt/Getty Images2014 Getty Images
NYPD Commissioner Bill Bratton said on Tuesday he had no problem with Mayor Bill de Blasio's call to an official in his department, inquiring about the arrest of Bishop Orlando Findlayter, a political ally. "I had no problem with it whatsoever. None, whatsoever," Bratton said at the news conference in which de Blasio and city officials announced new traffic-safety measures. It was the first Bratton had spoken publicly about the incident, which came out last week. Bratton's former boss, ex-Mayor Rudy Giuliani, also shrugged off the incident last week, which some have criticized as cronyism. Bratton was breezy, but de Blasio still seems a bit press-shy.
Last week Scott Stringer, the City Comptroller elected at the same time as fellow Democrat de Blasio, called the phone call "problematic," and said "the rule is, the mayor shouldn't be involved in any way about somebody's arrest." But Bratton was adamant that there was nothing inappropriate about it.
"He can call anybody he wants, any time he wants," Bratton said. "I call my people anytime I want … You need a free flow of communication in government. I have no issue whatsoever with him calling anybody in my staff or his people calling people in my staff."
Findlayter, stopped for a traffic violation on February 10, had a suspended license thanks to two open warrants stemming from an October immigration protest. De Blasio has said he merely called to inquire about the situation, not to lobby for Findlayter's release. The commander of the precinct where Findlayter was held let him out independently of the mayor's call, the NYPD has said.
Bratton said on Monday the mayor's late-night call did not warrant waking him up, and that he'd heard about it at his 6:30 a.m. briefing. "There is nothing about this situation that required my involvement," he said, according to the Wall Street Journal. "It's something I am known for. I am known as the great delegator," he said. "So if I have a precinct commander who cannot resolve an issue of this type, on his or her own, I would be basically questioning that precinct commander's capabilities. I am very comfortable with the action taken by the precinct commander."
"This was an individual that evidently the precinct commander knows quite well; they've interacted very frequently on issues involving the community that the precinct commander has responsibility for," Bratton said on Monday, per Politicker. "This is a discretion that is given to our precinct commanders. I think it was used appropriately here. I have no problem with it."
But despite the breezy tone of the remarks, de Blasio is still not up for a lengthy chat with reporters after a bruising presser last week led him to cancel his next day's appearance. "No more questions today, I'm sorry," he said after just a few non-traffic-safety inquiries, according to Politicker. "[I'm] questioned out." And with that he left, the Journal reported, "even as reporters chased him from the news conference."