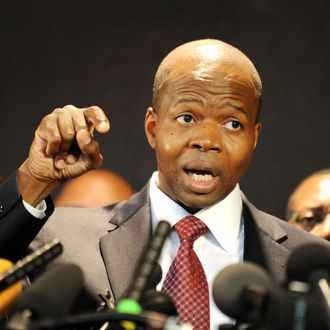 Ken Thompson
Photo: STAN HONDA/AFP/Getty Images
On Thursday, two men arrested for a Brooklyn murder in 1992 are expected to be exonerated after DNA evidence linked someone else to the crime. It's the latest in a string of overturned Brooklyn convictions from the eighties and nineties, which the New York Times reports may represent just "the tip of the iceberg" of questionable murder raps. "Perhaps hundreds of murder convictions may need review because of coerced confessions, intimidated or untrustworthy witnesses, prosecutorial misconduct or discredited detectives like Louis J. Scarcella," the detective whose cases are now under investigation, according to the Times.
Kenneth Thompson, Brooklyn's newly elected district attorney, has promised to investigate the questionable convictions. But as the Times points out, that is a complicated pursuit, because in some cases, potential misconduct may lie not just with police, but with prosecutors still working for Thompson's office. Back in May, former D.A. Charles Hynes was accused of running a "private jail system" in which his investigators would detain reluctant witnesses.
Hynes had already set up a so-called conviction integrity unit to look into problematic convictions, the Times notes, but the fact that some in the D.A.'s office might be targets of its investigations means Thompson may now have to bring in an independent reviewer. All of which means those who may have been wrongly convicted will have to wait a while yet before their cases get a second look.